Combined effects of valproate and naringin on kidney antioxidative markers and serum parameters of kidney function in C57BL6 mice
David Jutrić

University of Zagreb Faculty of Science, Zagreb, Croatia

Domagoj Đikić

Department of Animal Physiology, Faculty of Science, University of Zagreb

Almoš Boroš

University of Zagreb Faculty of Science, Zagreb, Croatia

Dyana Odeh

University of Zagreb Faculty of Science, Zagreb, Croatia

Romana Gračan

University of Zagreb Faculty of Science, Zagreb, Croatia

Anđelo Beletić

Genos Ltd., Glycoscience Research Laboratory, Zagreb, Croatia

Irena Landeka Jurčević

University of Zagreb Faculty of Food Technology and Biotechnology, Zagreb, Croatia
Keywords:
calcium, catalase, hyperkalaemia, malondialdehyde, oxidative stress, potassium, sodium, superoxide dismutase
Abstract
Valproate is known to disturb the kidney function, and high doses or prolonged intake may cause serum ion imbalance, kidney tubular acidosis, proteinuria, hyperuricosuria, polyuria, polydipsia, and dehydration. The aim of this in vivo study was to see whether naringin would counter the adverse effects of high-dose valproate in C57Bl/6 mice and to which extent. As expected, valproate (150 mg/kg bw a day for 10 days) caused serum hyperkalaemia, more in male than female mice. Naringin reversed (25 mg/kg bw a day for 10 days) the hyperkalaemia and activated antioxidative defence mechanisms (mainly catalase and glutathione), again more efficiently in females. In males naringin combined with valproate was not as effective and even showed some prooxidative effects.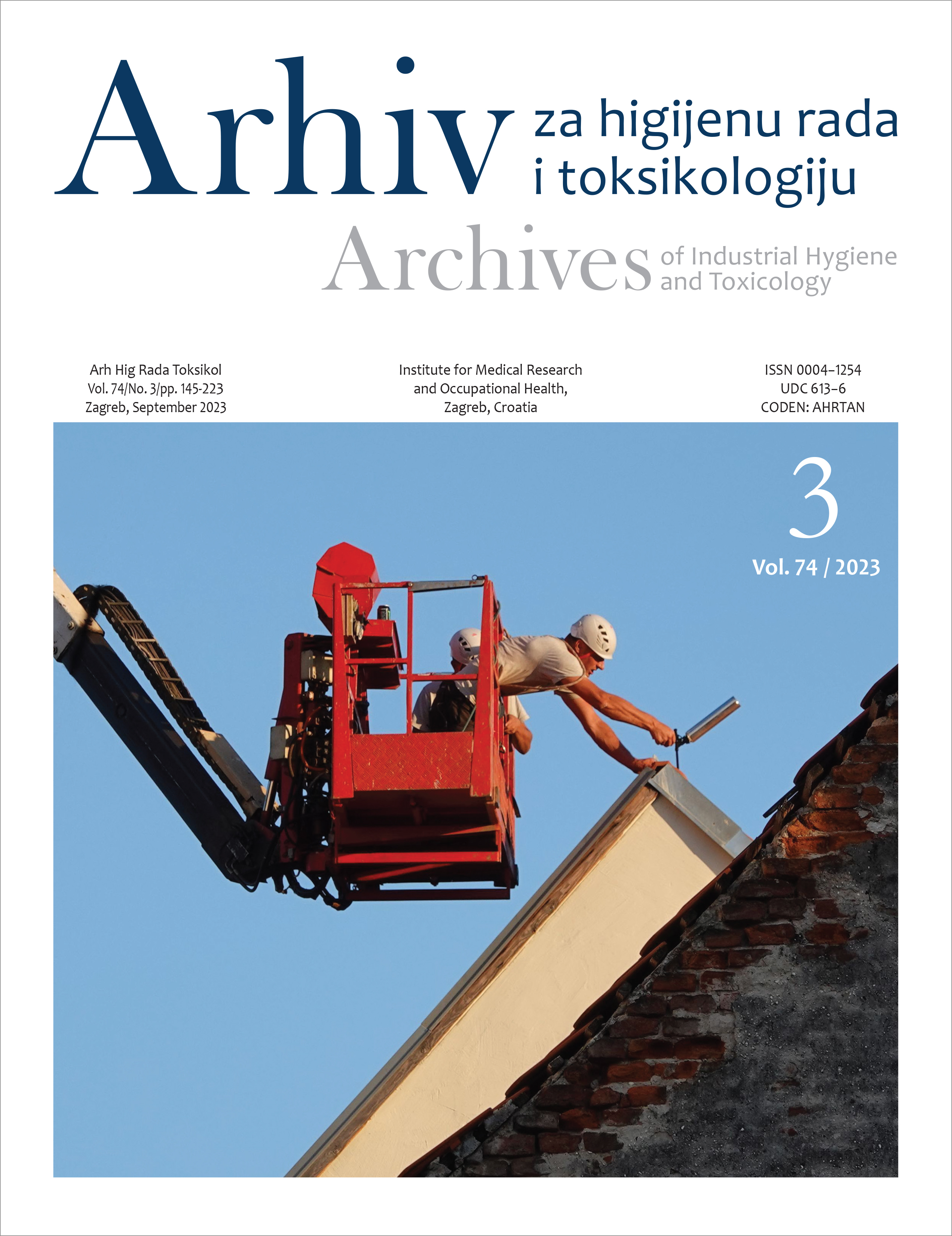 How to Cite
1.
Jutrić D, Đikić D, Boroš A, Odeh D, Gračan R, Beletić A, Landeka Jurčević I. Combined effects of valproate and naringin on kidney antioxidative markers and serum parameters of kidney function in C57BL6 mice. Arh Hig Rada Toksikol [Internet]. 2023Sep.25 [cited 2023Dec.6];74(3). Available from: https://arhiv.imi.hr/index.php/arhiv/article/view/1620
Copyright (c) 2023 Domagoj Đikić
This work is licensed under a Creative Commons Attribution 4.0 International License.