Protective effects of oral melatonin against cadmium-induced neurotoxicity in Wistar rats
Ihsan Kısadere

University of Balıkesir Faculty of Veterinary Medicine, Department of Physiology, Balıkesir, Turkey

Mehmet Faruk Aydın

University of Balıkesir Faculty of Veterinary Medicine, Department of Histology and Embryology, Balıkesir, Turkey

Mustafa Usta

University of Balıkesir Faculty of Veterinary Medicine, Department of Pathology, Balikesir, Turkey

Nurcan Donmez

University of Selcuk Faculty of Veterinary Medicine, Department of Physiology, Konya, Turke
Keywords:
AChE, antioxidant, CAT, Cd, cytokine, GABA, GSH, hippocampus, IL-6, IL-10, MDA, oxidative stress, SOD, TNF-α
Abstract
The aim of this study was to investigate the effects of oral melatonin on oxidative/antioxidative parameters and histopathological changes in the hippocampal tissue of Cd-exposed Wistar rats, including malondialdehyde (MDA), glutathione (GSH), tumour necrosis factor-alpha (TNF-α), interleukin (IL-6 and IL-10), and gamma-aminobutyric acid (GABA) levels and catalase (CAT), superoxide dismutase (SOD), and acetylcholinesterase (AChE) activities. Thirty-two male Wistar rats were divided randomly into four groups as follows: untreated control (n=8), cadmium (Cd) (n=8), melatonin (Mlt) (n=8), and Cd+Mlt (CdMlt) (n=8). Cd (2 mg/kg) was administered orally by gastric gavage three times a week and Mlt (100 mg/kg) five times a week. The control group received standard feed and water only. After four weeks of treatment, the animals were decapitated and tissue samples taken for biochemical and histopathological evaluations. Mlt caused a significant increase in GSH levels and SOD and CAT activities in the CdMlt group compared to the Cd group. Tissue TNF-α and IL-6 levels were significantly higher in the Cd group than other groups (P<0.05). This effect was significantly countered by Mlt in the CdMlt group (P<0.05). GABA concentrations were significantly higher in the Mlt than other groups (P<0.05). Our findings clearly evidence the protective effects of melatonin against Cd-induced neurotoxicity in rats.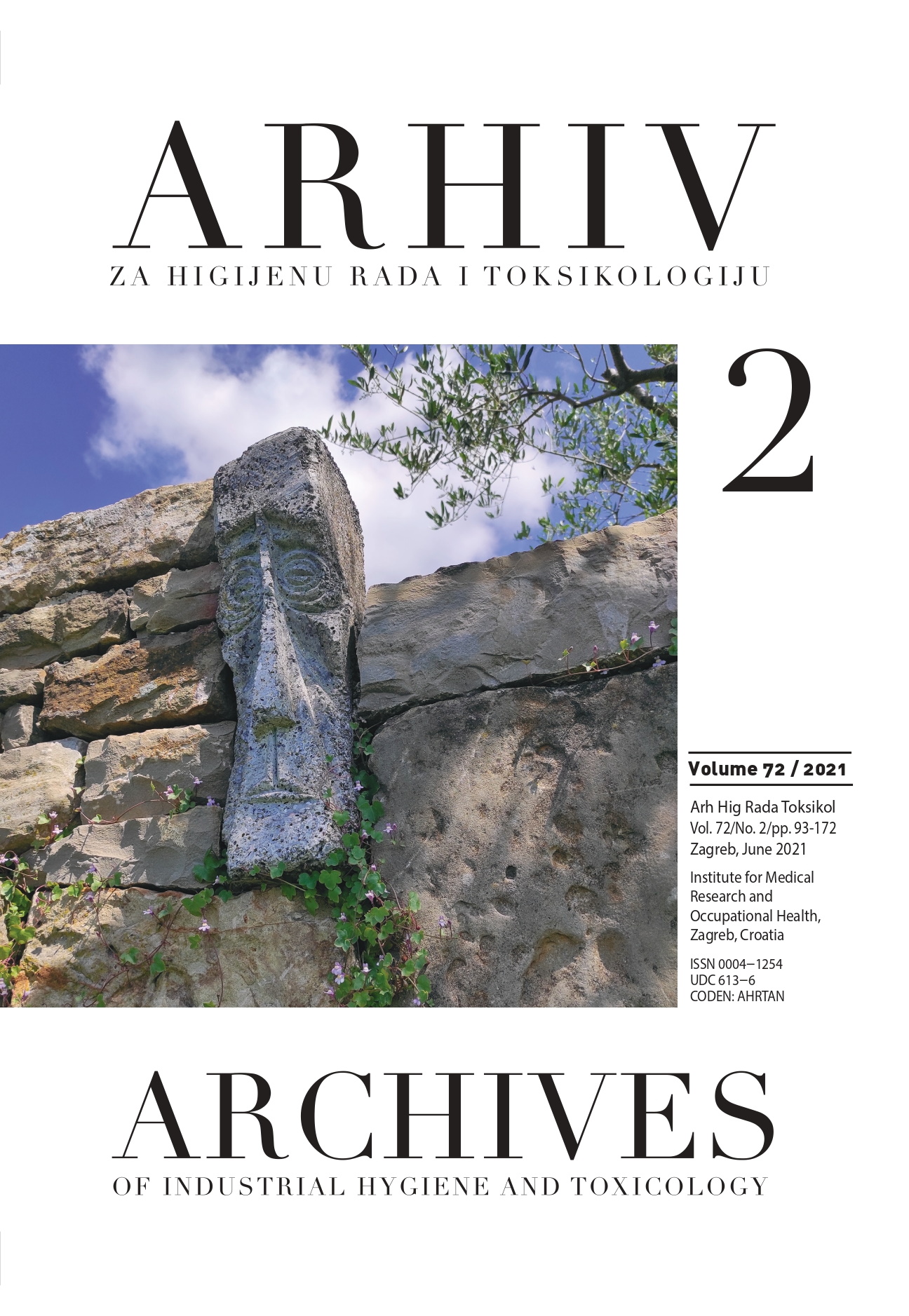 How to Cite
1.
Kısadere I, Aydın MF, Usta M, Donmez N. Protective effects of oral melatonin against cadmium-induced neurotoxicity in Wistar rats. Arh Hig Rada Toksikol [Internet]. 2021Jun.7 [cited 2021Jul.31];72(2). Available from: https://arhiv.imi.hr/index.php/arhiv/article/view/1367
Copyright (c) 2021 Ihsan Kısadere, Mehmet Faruk Aydın, Mustafa Usta, Nurcan Donmez
This work is licensed under a Creative Commons Attribution 4.0 International License.