Ochratoxin A potentiates citrinin accumulation in kidney and liver of rats
Dubravka Rašić

Institute for Medical Research and Occupational Health

Srđan Stefanović

Institute of Meat Hygiene and Technology, Department for Residues, Belgrade, Serbia

Dragan Milićević

Institute of Meat Hygiene and Technology, Department for Residues, Belgrade, Serbia

Marin Mladinić

LEO Pharma, Preclinical Development, Ballerup, Denmark

Davor Želježić

Institute for Medical Research and Occupational Health, Zagreb, Croatia

Alica Pizent

Institute for Medical Research and Occupational Health, Zagreb, Croatia

Paško Konjevoda

Rudjer Boskovic Institute, Division of Molecular Medicine, Zagreb,Croatia

Maja Peraica

Institute for Medical Research and Occupational Health, Zagreb, Croatia
Keywords:
experimental rats, mycotoxins, organic anion transporters, resveratrol, toxicity
Abstract
Ochratoxin A (OTA) and citrinin (CTN) are nephrotoxic mycotoxins often found together in grain. The aim of this study was to measure their accumulation in the kidney and liver of adult male Wistar rats, see how it would be affected by combined treatment, and to determine if resveratrol (RSV) would decrease their levels in these organs. The rats received 125 or 250 mg/kg bw of OTA by gavage every day for 21 days and/or 20 mg/kg bw of CTN a day for two days. Two groups of rats treated with OTA+CTN were also receiving 20 mg/kg bw of RSV a day for 21 days. In animals receiving OTA alone, its accumulation in both organs was dose-dependent. OTA+CTN treatment resulted in lower OTA but higher CTN accumulation in both organs at both OTA doses. RSV treatment increased OTA levels in the kidney and liver and decreased CTN levels in the kidney. Our findings point to the competition between CTN and OTA for organic anion transporters 1 and 3.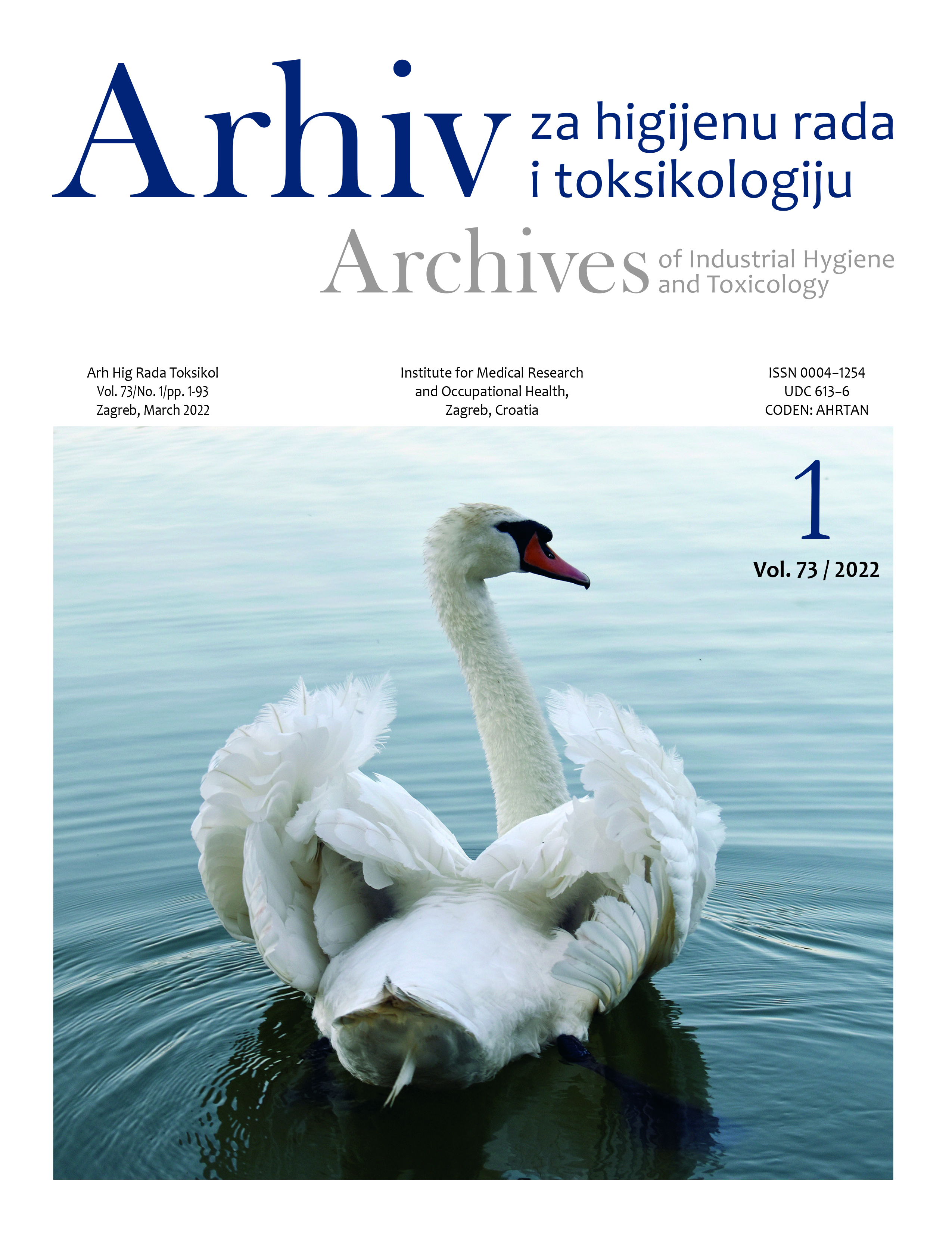 How to Cite
1.
Rašić D, Stefanović S, Milićević D, Mladinić M, Želježić D, Pizent A, Konjevoda P, Peraica M. Ochratoxin A potentiates citrinin accumulation in kidney and liver of rats. Arh Hig Rada Toksikol [Internet]. 2022Feb.22 [cited 2022Aug.14];73(1). Available from: https://arhiv.imi.hr/index.php/arhiv/article/view/1455
Copyright (c) 2022 Dubravka Rašić, Srđan Stefanović, Dragan Milićević, Marin Mladinić, Davor Želježić, Alica Pizent, Paško Konjevoda, Maja Peraica
This work is licensed under a Creative Commons Attribution 4.0 International License.