Sevoflurane and isoflurane genotoxicity in kidney cells of mice
Gordana Brozović

Faculty of Medicine, University of Osijek, Croatia Department of Anaesthesiology, Reanimatology and ICU, University Hospital for Tumours, Sestre milosrdnice University Hospital Centre, Zagreb, Croatia

Nada Oršolić

Department of Animal Physiology, Faculty of Science, University of Zagreb, Rooseveltov trg 6, Zagreb, Croatia

Ružica Rozgaj

Mutagenesis Unit, Institute for Medical Research and Occupational Health, Zagreb, Croatia retired

Fabijan Knežević

Department of Pathology, Sveti Duh University Hospital, Zagreb, Croatia

Anica Horvat Knežević

Department of Animal Physiology, Faculty of Science, University of Zagreb, Rooseveltov trg 6, Zagreb, Croatia

Martina Maričić

Department of Anaesthesiology, Reanimatology and ICU, University Hospital for Tumours, Sestre milosrdnice University Hospital Centre, Zagreb, Croatia

Dajana Krsnik

Division of Animal Physiology, Department of Biology, Faculty of Science, University of Zagreb

Vesna Benković

Department of Animal Physiology, Faculty of Science, University of Zagreb, Rooseveltov trg 6, Zagreb, Croatia
Keywords:
alkaline comet assay, Alkaline comet assay, DNA repair, Genetic damage, genetic damage, Volatile anaesthetics, in vivo studies, volatile anaesthetics
Abstract
The aim of this study was to evaluate the DNA damage and repair in kidney cells of Swiss albino mice after repeated exposure to sevoflurane and isoflurane and compare their detrimental effects. We used the alkaline comet assay to establish the genetic damage and measured three parameters: tail length, tail moment, and tail intensity of comets. These parameters were measured immediately after exposure to the above mentioned inhalation anaesthetics, two hours, six hours, and 24 hours later and were compared with the control group. Mean values of all three parameters were significantly higher in experimental groups compared to the control group. DNA damage in kidney cells of mice exposed to sevoflurane increased continuously before it reached its peak 24 hours after exposure. Isoflurane induced the highest DNA damage two hours after exposure. Levels of DNA damage recorded 24 h after cessation of exposure to both tested compounds suggest that sevoflurane was slightly more genotoxic than isoflurane to kidney cells of mice. According to these results, the currently used volatile anaesthetics sevoflurane and isoflurane are able to damage DNA in kidney cells of mice. Such findings suggest a possibility for similar outcomes in humans and that fact must be taken into account in everyday clinical practice.
References
Ebert J.T. Inhalation anesthesia. In: Barash PG, Cullen BF. Stoelting RK, editors. Clinical anesthesia. 5th ed. Philadelphia: Lippincott Williams and Wilkins; 2006. p. 384-420.
Lee YM, Song BC, Yeum KJ. Impact of Volatile Anesthetics on Oxidative Stress and Inflammation. BioMed Res Int. 2015; 2015:242709. doi:10.1155/2015/242709. Available at https://www.ncbi.nlm.nih.gov/pubmed.
Braz MG, Mazoti MA, Giacobino J, Braz LG, Golim MdeA, Ferrasi AC et al. Genotoxicity, cytotoxicity and gene expression in patients undergoing elective surgery under isoflurane anaesthesia. Mutagenesis 2011; 26 (3): 415-20.
Ebert TJ, Lindenbaum L. Clinical pharmacology of inhaled anesthetics. In: Evers AS., Maze M, Kharasch ED, editors. Anesthetic Pharmacology. 2nd ed. Cambridge: Cambridge University Press; 2011. p.397-420.
Brozović G, Oršolić N, Knežević F, Knežević Horvat A, Benković V, Šakić K et al. The in vivo genotoxicity of cisplatin, isoflurane and halotane evaluated by alkaline comet assay in Swiss albino mice. J Appl Genet 2011; 52: 355-361.
Butterworth JF, Mackey DC, Wasnick JD. Inhalation Anesthetics. In: Butterworth JF, Mackey DC, Wasnick JD, editors. Morgan &Mikhail´s Clinical Anesthesiology. 5th ed. New York: McGraw-Hill Medical; 2013. p. 153-175.
Martin Jr.JL, Njoku DB. Metabolism and Toxicity of Modern Inhaled Anesthetics. In: Miller´s Anesthesia, 6th ed. Philadelphia: Elsevier 2005; 231-264.
Braz MG, Braz LG, Barbosa BS, Giacobino J, JEB Orosz, Salvadori DMF, Braz JRC. DNA damage in patients who underwent minimally invasive surgery under inhalation or intravenous anesthesia. Mutation Research 2011; 726 (2): 251-254.
Guengerich PF. Mechanisms of Drug Toxicity and Relevance to Pharmaceutical Development. Drug Metab Pharmacokinet. 2011; 26(1): 3-14.
Foufelle F, Fromenty B. Role of endoplasmic reticulum stress in drug-induced toxicity. Pharmacol Res Perspect. 2016; 4(1): e00211. Available at https://www.ncbi.nlm.nih.gov/pubmed
Karabiyik L, Sardas S, Polat U, Kocaba S NA, Karakaya AE. Comparison of genotoxicity of sevoflurane and isoflurane in human lymphocytes studied in vivo using the comet assay. Mutat Res 2001; 492(1-2): 99-107.
Alleva R, Tomasetti M, Solenghi MD, Stagni F, Gamberini F, Bassi A et al. Lymphocyte DNA damage precedes DNA repair or cell death after orthopaedic surgery under general anesthesia. Mutagenesis 2003; 18(5): 423-8.
Sardas S, Karabiyik L, Aygun N, Karakaya AE. DNA damage evaluated by the alkaline comet assay in lymphocytes of humans anaesthetized with isoflurane. Mutat Res 1998; 418: 1-6.
Jaloszynski P, Kujawski M, Wasowicz M, Szulc R, Szyfter K. Genotoxicity of inhalation anesthetics halotane and isoflurane in human lymphocytes studied in vitro using the comet assay. Mutat Res 1999; 439:199-206.
Szyfter K, Szulc R, Mikstacki A, Stachecki I, Rydzanicz M, Jaloszynski P. Genotoxicity of inhalation anaesthetics: DNA lesions generated by sevoflurane in vitro and in vivo. J Appl Genet 2004; 45(3): 369-74.
Karpinski TM, Kostrzewska-Poczekaj, Stachecki I, Mikstacki A, Szyfter K. Genotoxicity of the volatile anaesthetic desflurane in human lymphocytes in vitro established by comet assay. J Appl Genet 2005; 46(3): 319-324.
Topouzova-Hristova T, Daza P, Garcia-Herdugo G, Stephanova E. Volatile anaesthetic halotane causes DNA damage in A549 lung cells. Toxicol in Vitro 2006; 20 (5): 585-93.
Brozović G, Oršolić N, Rozgaj R, Kašuba V, Knežević F, Horvat Knežević A et al. DNA damage and repair after exposure to sevoflurane in vivo, evaluated in Swiss albino mice by the alkaline comet assay and micronucleus test. J Appl Genet 2010; 51(1): 79-86.
Kvolik S, Glavaš-Obrovac L, Bares V, Karner I. Effects of inhalation anesthetics halotane, sevoflurane and isoflurane on human cell lines. Life Sci 2005; 77(19): 2369-83.
Rozgaj R, Kašuba V, Perić M. Chromosome aberrations in operating room personnel. Am J Ind Med 1999; 35:642-6.
Rozgaj R, Kašuba V, Jazbec A. Preliminary study of cytogenetic damage in personnel exposed to anesthetic gases. Mutagenesis 2001; 16(2): 139-143.
Rozgaj R, Kašuba V, Brozović G, Jazbec A. Genotoxic effects of anaesthetics in operating theatre personnel evaluated by the comet asssay and micronucleus test. International Journal of Hygiene and Environmental Health 2009; 212(1): 11-17.
Natarajan D, Santhiya ST. Cytogenetic damage in operation theatre personnel. Anaesthesia 1990 45:574-7.
Chandrasekhar M, Rekhadevi PV, Sailaja N, Rahman M.F, Reddy JP, Mahboob M et al. Evaluation of genetic damage in operating room personnel exposed to anaesthetic gases. Mutagenesis 2006; 21(4): 249-254.
McGregor DG.Occupational exposure to Trace Concentrations of Waste Anesthetic Gases. Mayo Clin Proc. Mayo Foundation for Medical Education and Research. Elsevier 2000; 75(3): 273-277.
Mušak L, Halašova E, Matakova T, Letkova L, Vodičkova L, Buchancova J et al. Comparison of chromosomal aberrations frequency and polymorphism of GSTs genes in workers occupationally exposed to cytostatics or anaesthetics. Interdisc Toxicol 2009; 2(3): 190-194.
Mušak L, Smerhovsky Z, Halasova E, Osina O, Lethova L, Vodickova L et al. Chromosomal damage among medical staff occupationally exposed to volatile anesthetics, antineoplastic drugs, and formaldehyde. Scand J Work Environ Health 2013; 39(6): 618-630.
Schifilliti D, Mondello S, D´Arrigo MG, Chille G, Fodale V. Genotoxic effects of anesthetic agents: an update. Expert Opin Drug Saf 2011; 10 (6): 891-9.
Szyfter K, Stachecki I, Kostrzewska-Poczekaj M, Szaumkessel M, Szyfter-Harris J, Sobezynski P. Exposure to volatile anaesthetics is not followed by a massive induction of single-strand DNA breaks in operation theatre personnel. J Appl Genetics 2016; 57:343-348.
Araujo T K, da Silva-Grecco R L, Bisinotto F M, Roso N C, Pissetti C W, da Cruz R M and Balarin M A. Genotoxic effects of anesthetics in operating room personnel evaluated by micronucleus test. J Anesthesiol Clin Sci. 2013; 2:26. http://dx.doi.org/10.7243/2049-9752-2-26.
Wiesner G, Schieve-Langgartner F, Lindner R, Gruber M. Increased formation of sister chromatid exchanges, but not of micronuclei in anaesthetists exposed to low levels of sevoflurane. Anaesthesia 2008; 63(8): 861-4.
Collins AR. The comet assay for DNA damage and repair: principles, applications and limitations. Mol Biotechnol 2004; 26(3): 249-61.
Nickson CM, Parsons JL. Monitoring regulation of DNA repairs activities of cultured cells in gel using the comet assay. Front Genet. 2014; 16: 5:232.
Johansson C, Møller P, Forchhammer L, Loft S, Godschalk RW, Langie SA et al. An ECVAG trial on assessment of oxidative damage to DNA measured by the comet assay. Mutagenesis 2010; 25(2): 125-132.
de Lapuente J, Lourenço J, Mendo SA, Borrás M, Martins MG, Costa PM.et al. The Comet Assay and its applications in the field of ecotoxicology: a mature tool that continues to expand its perspectives. Front Genet. 2015; 4 (6): 180. doi: 10.3389/fgene.
Gunasekarana V, Raj GV, Chand PA. Comprehensive Review on clinical Applications of Comet Assay.Journal of Clinical and Diagnostic Research 2015; 9 (3): GE01-GE05.
Burlinson B, Tice RR, Speit G, Agurell E, Brendler-Schwaab SY, Collins AR et al. Fourth International Workgroup on Genotoxicity testing: results of the in vivo Comet assay workgroup. Mutat Res 2007; 627(1): 31-5.
Uno Y, Kojima H, Omori T, Corvi J, Honma M, Schechtman LM et al. JaCVAM-organized international validation study of the in vivo rodent alkaline comet assay for detection of genotoxic carcinogenes: II. Summary of definitive validation study results. Mutat Res Genet Toxicol Environ Mutagen 2015; 786-788: 45-76.
Collins AR, El Yamani N, Lorenzo Y, Schaposhnikov S, Brunborg G, Azqueta A. Controlling variation in the comet assay. Front Genet 2014; 20; 5:359.
Braz MG, Karahalil B. Genotoxicity of Anesthetics Evaluated In Vivo (Animals). Biomed Res Int. 2015; 2015: 280802. doi: 10.1155/2015/280802. Review.
Brozović G, Oršolić N, Knežević F, Horvat Knežević A, Benković V, Vrdoljak DV et al. Evaluation of DNA damage in vivo induced by combined application of cisplatin and sevoflurane. Eur J Anaesthesiol 2008; 25(8): 642-7.
Brozović G, Oršolić N, Knežević F, Horvat Knežević A, Benković V, Šakić K et al. Genotoxicity and cytotoxicity of cisplatin treatment combined with anaesthetics on EAT cells in vivo. Onkologie 2009; 32(6): 337-43.
Matsuoka H, Kurosawa S, Horinouchi T, Kato M, Hashimoto Y. Inhalation anesthetics induce apoptosis in normal peripheral lymphocytes in vitro. Anesthesiology 2001; 95(6): 1467-72.
Wong CH,Liv TZ,Chve SM,Lu FJ,Liu YC,Lin ZC et al.Sevoflurane-induced oxidative stress and cellular injury in human peripheral polymorphonuclear neutrophils. Food Chem Toxicol 2006; 44(8): 1399-407.
Rocha TL, Dias-Junior CA, Possomato-Vieira JS, Gonçalves-Rizzi VH, Nogueira FR, De Souza KM et al. Sevoflurane Induces DNA Damage Whereas Isoflurane Leads to Higher Antioxidative Status in Anesthetized Rats. Biomed Res Int. 2015; 2015: 264971. doi: 10.1155/2015/264971.
Alcaraz M, Quesada S, Armero D, Martin-Gίl R, Olivares A, Achel GD.Genotoxicity and cytotoxicity of sevoflurane in two human cell lines in vitro with ionizing radiation. Colomb Med. 2014; 45(3): 104-9.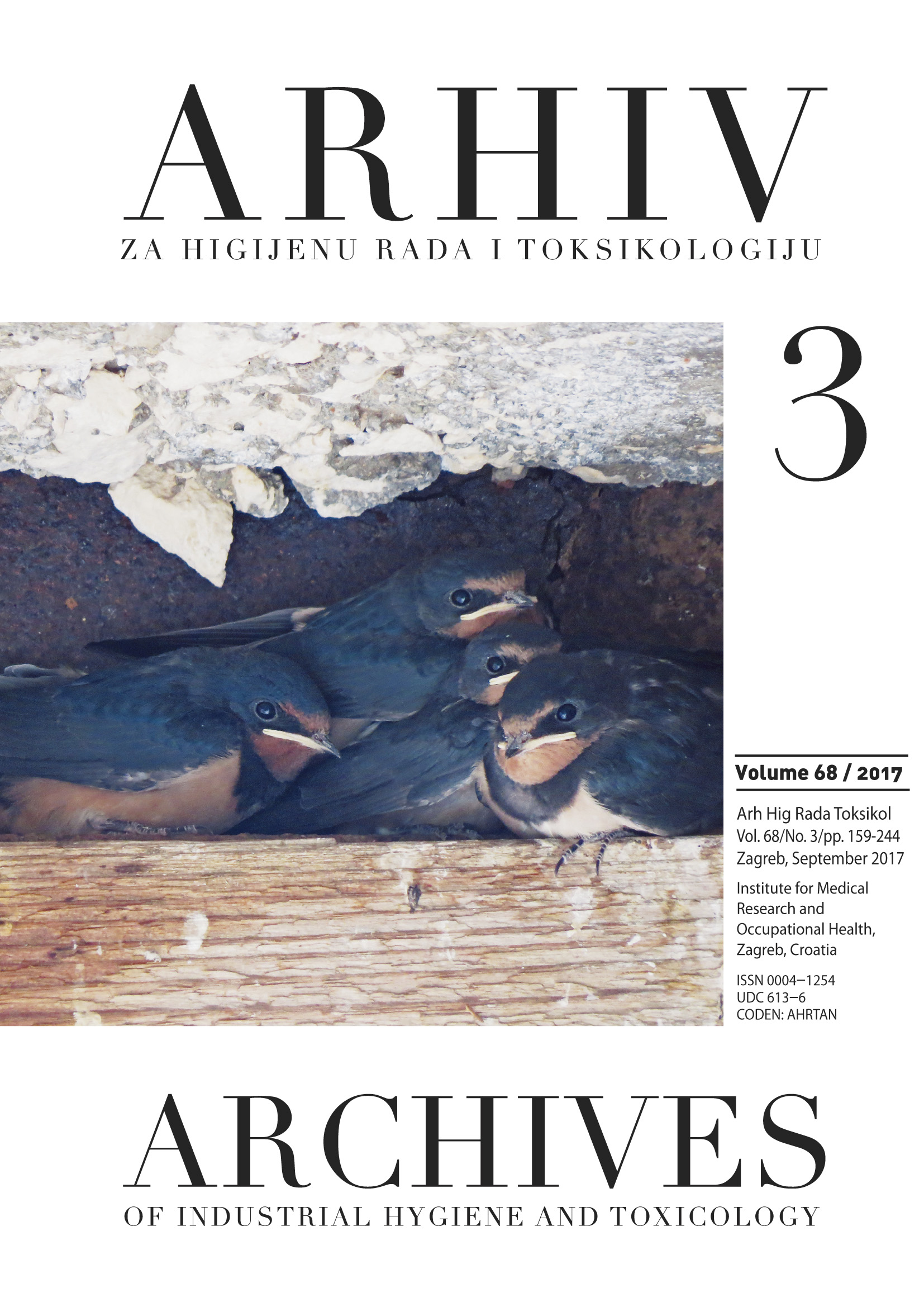 How to Cite
1.
Brozović G, Oršolić N, Rozgaj R, Knežević F, Horvat Knežević A, Maričić M, Krsnik D, Benković V. Sevoflurane and isoflurane genotoxicity in kidney cells of mice. Arh Hig Rada Toksikol [Internet]. 2017Aug.2 [cited 2022Oct.1];68(3). Available from: https://arhiv.imi.hr/index.php/arhiv/article/view/712