Contamination of pine and birch wood dust with microscopic fungi and determination of its sterol contents
Kinga Stuper-Szablewska

Poznan Universtity of Life Sciences, Department of Chemistry

Tomasz Rogoziński

Poznan Universtity of Life Sciences, Department of Furniture Design

Juliusz Perkowski

Poznan Universtity of Life Sciences, Department of Chemistry
Keywords:
ergosterol, birch wood, gas chromatography, pine wood, mycobiota, sterols, woodworking, wood dust
Abstract
Wood compounds, especially sterols, are connected with the level of contamination with microscopic fungi. Within this study, tests were conducted on wood dust samples collected at various work stations in a pine and birch timber conversion plant. Their contamination with mycobiota was measured as the concentration of ergosterol (ERG) by ultra performance liquid chromatography (UPLC). Another aim of this study was to assess the effect of contamination with microscopic fungi on the sterol contents in wood dusts. Analyses were conducted on five sterols: desmosterol, cholesterol, lanosterol, stigmasterol, and β-sitosterol using UPLC and their presence was confirmed using gas chromatography/mass spectrometry (GC/MS). The results of chemical analyses showed the greatest contamination with mycobiota in birch wood dust. We also observed varied contents of individual sterols depending on the wood dust type. Their highest concentration was detected in birch dust. The discriminant analysis covering all tested compounds as predictors showed complete separation of all tested wood dust types. The greatest discriminatory power was found for stigmasterol, desmosterol, and ergosterol.
References
Higuchi T, editor. Biosynthesis and biodegradation of wood components. Orlando, USA: Academic Press; 1985.
Fengel D, Wegener G. Wood: chemistry, ultrastructure, reactions. New York, USA: Walter de Gruyter; 1983.
Palmqvist J, Gustafsson SI. Emission of dust in planing and milling of wood. Holz Roh Werkst 1999; 57: 164-170. DOI: 10.1007/s001070050035
Očkajová A, Kučerka M, Krišťák L, Ružiak I, Gaff M. Efficiency of Sanding Belts for Beech and Oak Sanding. Bioresources 2016; 11: 5242-5254. DOI: 10.15376/biores.11.2.5242-5254
Skórska C, Mackiewicz B, Dutkiewicz J, Krysińska-Traczyk E, Milanowski J, Feltovich H, Lange J, Thorne P. Effects of exposure to grain dust in Polish farmers: work-related symptoms and immunologic response to microbial antigens associated with dust. Ann Agric Environ Med 1998; 5: 147-153. PMID: 9860817
Baran S, Teul I. Wood dust: an occupational hazard which increases the risk of respiratory disease. J Physiol Pharmacol 2007; 58(5): 43-50. PMID: 18204114
Krysińska-Traczyk E, Bhawanipant NP. Skórska C, Sitkowska J, Prażmo Z, Cholewa G, Dutkiewicz J. Exposure of Indian agricultural workers to airborne microorganisms, dust and endotoxin during handling of various plant products. Ann Agric Environ Med 2005; 12: 269-275. PMID: 16457484
Chung KYK, Cuthbert RJ, Revell GS, Wassel SG, Summers N. A study on dust emission, particle size distribution and formaldehyde concentration during machining of medium density fibreboard. Ann Occup Hyg 2000; 44: 455-466. PMID: 10963710
Noda M, Tanaka M, Seto Y, Aiba T, Oku C. Occurrence of cholesterol as a major sterol component in leaf surface lipids. Lipids 1988; 23: 439-444. DOI: 10.1007/BF02535517
Villaverde JJ, Domingues RMA, Freire CSR., Silvestre AJD, Neto CP, Ligero P, Vega A. Miscanthus x giganteus extractives: a source of valuable phenolic compounds and sterols. J Agric Food Chem 2009; 57: 3626–3631. PMID: 19354296
Stong RA, Kolodny E, Kelsey RG, González-Hernández MP, Vivanco JM, Manter DK. Effect of plant sterols and tannins on Phytophthora ramorum growth and sporulation. J Chemi Ecol 2013; 39: 733-743. PMID: 23689874
Jacobsen G. Schaumburg I. Sigsgaard T. Schlünssen V. Non-malignant respiratory diseases and occupational exposure to wood dust. Part II. Dry wood industry. Ann Agric Environ Med 2010; 17: 29-44. PMID: 20684478
Čavlović AO, Beljo Lučić R, Jug M, Radmanović K, Bešlić I. Side-by-side determination of workers' exposure to wood dust with IOM and openfaced samplers. Arh Hig Rada Toksikol 2013; 64: 379-384. PMID: 24084346
Perkowski J, Buśko M, Stuper K, Kostecki M, Matysiak A, Szwajkowska-Michałek L. Concentration of ergosterol in small – grained naturally contaminated and inoculated cereals. Biologia 2008; 63: 542-547. DOI: 10.2478/s11756-008-0083-2
Szwajkowska-Michałek L, Stuper K, Łakomy P, Matysiak A, Perkowski J. Contents of microscopic fungi in dusts coming from cereal analysis laboratories. Ann Agric Environ Med 2010; 17: 101-106. PMID: 20684486
Rogoziński T, Szwajkowska-Michałek L, Dolny S, Andrzejak A, Perkowski J. The evaluation of microfungal contamination of dust created during woodworking in furniture factories. Med Pr 2014; 65: 705-713. PMID: 25902688
Piispanen R, Saranpää P. Seasonal and within-stem variations of neutral lipids in silver birch (Betula pendula) wood. Tree Physiol 2004; 24: 991-999. PMID:15234896
Edman K, Löfstedt H, Berg P, Eriksson K, Axelsson S, Bryngelsson I, Fedeli C. Exposure assessment to α- and β-Pinene, Δ3-Carene and wood dust in industrial production of wood pellets. Ann Occup Hyg 2003; 47: 219-226. PMID: 12639835
Thompson BM, Grebenok RJ, Behmer ST, Gruner DS. Microbial symbionts shape the sterol profile of the xylem-feeding woodwasp, Sirex noctilio. J Chem Ecol 2013; 39: 129-139. PMID: 23224570
Gutiérrez A, del Río JC, Martínez MJ, Martínez AT. Fungal degradation of lipophilic extractives in Eucalyptus globulus wood. Appl Environ Microbiol 1999; 65: 1367-1371. PMID: 10103223
Laakso P. Analysis of sterols from various food matrices. Eur J Lipid Sci Technol 2005; 107: 402-410. DOI 10.1002/ejlt.200501134
Pasanen AL, Yli-Pietilä K, Pasanen P, Kalliokoski P, Tarhanen J. Ergosterol content in various fungal species and biocontaminated building materials. Appl Environ Microbiol 1999; 65: 138-142. PMID: 9872771
Saraf A, Larsson L, Burge H, Milton D. Quantification of ergosterol and 3-hydroxy fatty acids in settled house dust by gas chromatography-mass spectrometry: Comparison with fungal culture and determination of endotoxin by a Limulus amebocyte lysate assay. Appl Environ Microbiol 1997; 63: 2554-2559. PMID: 9212406
Maupetit P, Gatel F, Cahagnier B, Botorel G, Charlier M, Collet B, Dauvillier P, Laffiteau J, Roux G. In: Quantitative estimation of fungal infestation of feedstuffs by determining ergosterol content. 44Th Annual Meeting of EAAP; 1993; Aarhus, Denmark. pp. 16-19.
Schnürer J, Jonsson A. Ergosterol levels and mould colony forming units in Swedish grain of food and feed grade. Acta Agric Scand B 1992; 42: 240-245. DOI 10.1080/09064719209410219
Speranza M, Gutiérrez A, del Río JC, Bettucci L, Martínez AT, Martínez MJ. Sterols and lignin in Eucalyptus globulus Labill. wood: Spatial distribution and fungal removal as revealed by microscopy and chemical analyses. Holzforschung 2009; 63: 362-370. DOI: 10.1515/HF.2009.041
Cheikh-Rouhou S, Besbes S, Lognay G, Blecker C, Deroanne C, Attia H. Sterol composition of black cumin (Nigella sativa L.) and aleppo pine (Pinus halepensis Mill.) seed oils. J Food Comp Anal 2008; 21: 162-168. DOI: 10.1016/j.jfca.2007.09.001
Cohen R, Persky L, Hadar Y. Biotechnological applications and potential of wood-degrading mushrooms of the genus Pleurotus. Appl Microbiol Biotechnol 2002; 58: 582-594. PMID: 11956739
Schwarze FWMR, Spycher M, Resistance of thermo-hygro-mechanically densified wood to colonization and degradation by brown rot fungi. Holzforschung 2005; 59: 358-363. DOI: 10.1515/HF.2005.059
Vane CH, Abbott GD, Head IM. The effect of fungal decay (Agaricus bisporus) on wheat straw lignin using pyrolysis–GC–MS in the presence of tetramethylammonium hydroxide (TMAH). J Anal Appl Pyrol 2001; 60: 69-78. DOI 10.1016/S0165-2370(00)00156-X
Vane CH, Martin SC, Snape CE, Abbott GD. Degradation of lignin in wheat straw during growth of the oyster mushroom (Pleurotus ostreatus) using off-line thermochemolysis with tetramethylammonium hydroxide and solid-state 13C NMR. J Agric Food Chem 2001; 49: 2709-2716. DOI 10.1021/jf001409a
Vane CH, Drage TC, Snape CE. Biodegradation of oak (Quercus alba) wood during growth of the shiitake mushroom (Lentinula edodes): A molecular approach. J Agric Food Chem 2003; 51: 947-956. PMID: 12568554
Vane CH, Drage TC, Snape CE, Stephenson MH, Foster C. Decay of cultivated apricot wood (Prunus armeniaca) by the ascomycete Hypocrea sulphurea, using solid state 13C NMR and off-line TMAH thermochemolysis with GC–MS. Int Biodeter Biodegr 2005; 55: 175-185. DOI 10.1016/j.ibiod.2004.11.004
Viitanen H, Toratti T, Makkonen L, Peuhkuri R, Ojanen T, Ruokolainen L, Räisänen J. Towards modelling of decay risk of wooden materials. Eur J Wood Wood Prod 2010; 68: 303-313. DOI 10.1007/s00107-010-0450-x
Worrall JJ, Anagnost SE, Zabel RA. Comparison of wood decay among diverse lignicolous fungi. Mycologia 1997; 89: 199–219.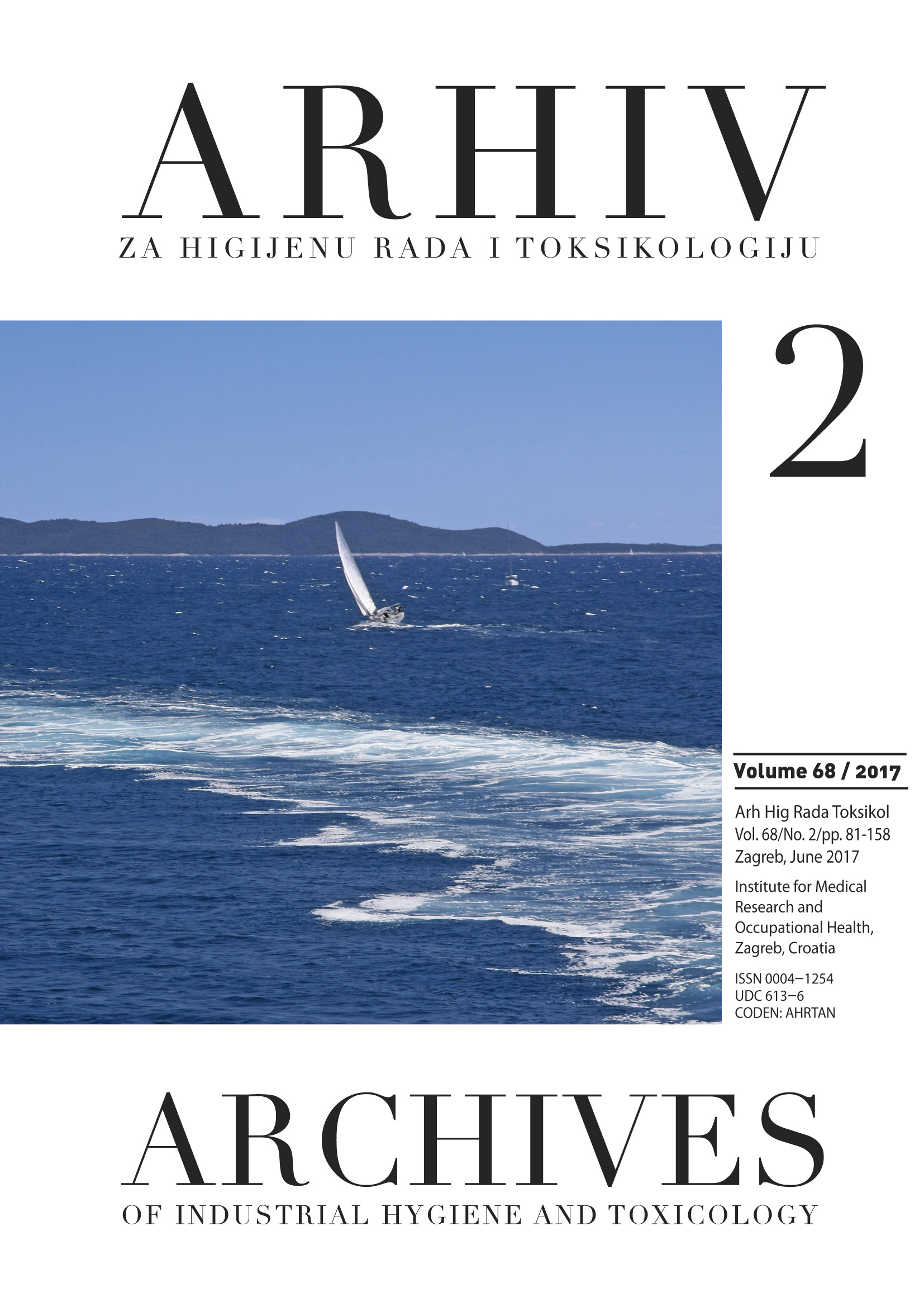 How to Cite
1.
Stuper-Szablewska K, Rogoziński T, Perkowski J. Contamination of pine and birch wood dust with microscopic fungi and determination of its sterol contents. AIHT [Internet]. 2Jun.2017 [cited 20Jul.2018];68(2). Available from: https://arhiv.imi.hr/index.php/arhiv/article/view/691
Copyright (c) 2017 Archives of Industrial Hygiene and Toxicology
This work is licensed under a Creative Commons Attribution-NonCommercial-ShareAlike 4.0 International License.