Comparison of the solid phase and liquid-liquid extraction methods for methadone determination in human serum and whole blood samples using gas chromatography/mass spectrometry
Maja Veršić Bratinčević

University of Split School of Medicine

Tanja Visković

University Hospital Centre Split

Davorka Sutlović

University of Split School of Medicine and University Hospital Centre Split
Keywords:
biological samples, liquid-liquid extraction, extraction techniques, methadone, GC/MS, serum samples, substitution therapy, solid-phase extraction, whole blood samples
Abstract
The aim of this study was to determine the optimal biological sample and the optimal extraction technique for monitoring methadone concentrations in biological samples. We analysed methadone in serum and whole blood samples using gas chromatography/mass spectrometry (GC/MS). Before analysis, we compared five solid-phase extraction (SPE) and two liquid-liquid extraction (LLE) methods and determined that SPE with Supelco LC-18 in serum yielded the best extraction efficiency. The limit of detection was 10 ng mL-1 and the limit of quantification 25 ng mL-1. Correlation coefficient was over 0.999 for the methadone calibration curve in linear range from 50 to 2000 ng mL-1. Intra and inter-day accuracy and precision of the method was satisfactory. The method was successfully applied for determining serum methadone in patients on maintenance therapy.
References
Rudaz S, Veuthey JL. Stereoselective determination of methadone in serum by HPLC following solid-phase extraction on disk. Journal of pharmaceutical and biomedical analysis. 1996;14(8-10):1271-9. Epub 1996/06/01.
Inturrisi CE, Verebely K. The levels of methadone in the plasma in methadone maintenance. Clinical pharmacology and therapeutics. 1972;13(5):633-7. Epub 1972/09/01.
El-Beqqali A, Abdel-Rehim M. Quantitative analysis of methadone in human urine samples by microextraction in packed syringe-gas chromatography-mass spectrometry (MEPS-GC-MS). Journal of separation science. 2007;30(15):2501-5. Epub 2007/09/01.
Nilsson MI, Meresaar U, ÄNggård E. Clinical Pharmacokinetics of Methadone. Acta Anaesthesiologica Scandinavica. 1982;26:66-9.
Gourlay GK, Cherry DA, Cousins MJ. A comparative study of the efficacy and pharmacokinetics of oral methadone and morphine in the treatment of severe pain in patients with cancer. Pain. 1986;25(3):297-312. Epub 1986/06/01.
Boulton DW, Arnaud P, DeVane CL. A single dose of methadone inhibits cytochrome P-4503A activity in healthy volunteers as assessed by the urinary cortisol ratio. British journal of clinical pharmacology. 2001;51(4):350-4. Epub 2001/04/25.
Rudaz S, Ortelli D, Gex-Fabry M, Deglon JJ, Balant L, Veuthey JL. Development of validated stereoselective methods for methadone determination in clinical samples. Chirality. 1999;11(5-6):487-94. Epub 1999/07/27.
Juhascik MP, Jenkins AJ. Comparison of liquid/liquid and solid-phase extraction for alkaline drugs. Journal of chromatographic science. 2009;47(7):553-7. Epub 2009/09/24.
Samanidou VF, Anastasiadou K, Papadoyannis IN. Development and Validation of a Rapid HPLC Method for the Determination of Methadone and its Main Metabolite EDDP in Biological Fluids, Following SPE. Journal of Liquid Chromatography & Related Technologies. 2006;29(6):889-902.
Chikhi-Chorfi N, Pham-Huy C, Galons H, Manuel N, Lowenstein W, Warnet JM, et al. Rapid determination of methadone and its major metabolite in biological fluids by gas-liquid chromatography with thermionic detection for maintenance treatment of opiate addicts. Journal of chromatography B, Biomedical sciences and applications. 1998;718(2):278-84. Epub 1998/12/05.
Moore C, Guzaldo F, Hussain MJ, Lewis D. Determination of methadone in urine using ion trap GC/MS in positive ion chemical ionization mode. Forensic science international. 2001;119(2):155-60. Epub 2001/05/30.
Cheng YF, Neue UD, Woods LL. Novel high-performance liquid chromatographic and solid-phase extraction methods for quantitating methadone and its metabolite in spiked human urine. Journal of chromatography B, Biomedical sciences and applications. 1999;729(1-2):19-31. Epub 1999/07/20.
He H, Sun C, Wang XR, Pham-Huy C, Chikhi-Chorfi N, Galons H, et al. Solid-phase extraction of methadone enantiomers and benzodiazepines in biological fluids by two polymeric cartridges for liquid chromatographic analysis. Journal of chromatography B, Analytical technologies in the biomedical and life sciences. 2005;814(2):385-91. Epub 2005/01/11.
Frost M, Kohler H, Blaschke G. Enantioselective determination of methadone and its main metabolite 2-ethylidene-1,5-dimethyl-3,3-diphenylpyrrolidine (EDDP) in serum, urine and hair by capillary electrophoresis. Electrophoresis. 1997;18(6):1026-34. Epub 1997/06/01.
Schmidt N, Brune K, Geisslinger G. Stereoselective determination of the enantiomers of methadone in plasma using high-performance liquid chromatography. Journal of chromatography. 1992;583(2):195-200. Epub 1992/12/02.
Norris RL, Ravenscroft PJ, Pond SM. Sensitive high-performance liquid chromatographic assay with ultraviolet detection of methadone enantiomers in plasma. Journal of chromatography B, Biomedical applications. 1994;661(2):346-50. Epub 1994/11/18.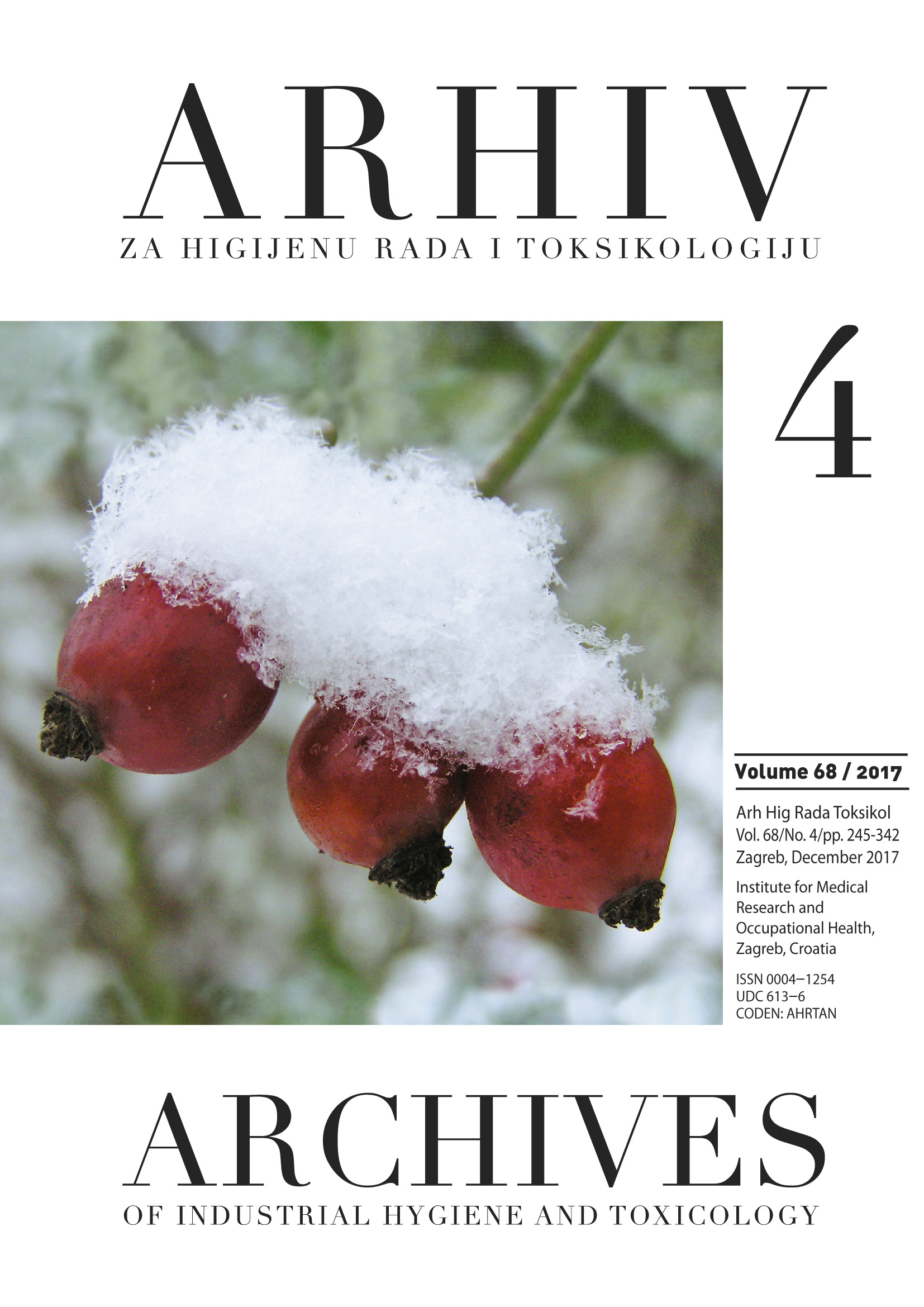 How to Cite
1.
Veršić Bratinčević M, Visković T, Sutlović D. Comparison of the solid phase and liquid-liquid extraction methods for methadone determination in human serum and whole blood samples using gas chromatography/mass spectrometry. Arh Hig Rada Toksikol [Internet]. 2017Dec.5 [cited 2023Oct.4];68(4). Available from: https://arhiv.imi.hr/index.php/arhiv/article/view/716