Effects of butylparaben on antioxidant enzyme activities and histopathological changes in rat tissues
Duygu Aydemir

School of Medicine, Department of Medical Biochemistry, Koc University, Istanbul, Turkey

Burcu Öztaşcı

Hacettepe University, Science Faculty, Department of Biology, Ankara, Turkey

Nurhayat Barlas

Hacettepe University, Science Faculty, Department of Biology, Ankara, Turkey

Nuray Nuriye Ulusu

Koc University
Keywords:
endocrine disrupting chemicals, glucose 6-phosphate dehydrogenase, 6-phosphogluconate dehydrogenase, glutathione peroxidase, glutathione reductase, glutathione-S-transferase
Abstract
Butyl p-hydroxybenzoic acid, also known as butylparaben (BP), is one of the most common parabens absorbed by the skin and gastrointestinal tract and metabolised in the liver and kidney. Recent in vivo and in vitro studies have raised concern that BP causes reproductive, development, and teratogenic toxicity. However, BP-induced oxidative stress and its relation to tissue damage has not been widely investigated before. Therefore, we aimed to investigate the effects of butyl 4-hydroxybenzoate on enzyme activities related to the pentose phosphate pathway and on glutathione-dependent enzymes such as glucose 6-phosphate dehydrogenase (G6PD), 6-phosphogluconate dehydrogenase (6-PGD), glutathione reductase (GR), glutathione peroxidase (GPx), and glutathione-S-transferase (GST) in kidney, liver, brain, and testis tissues. Male rats were randomly divided into four groups to orally receive corn oil (control) or 200, 400, or 800 mg/kg/day of BP for 14 days. Then we measured G6PD, GR, GST, 6-PGD, and GPx enzyme activities in these tissues and studied histopathological changes. BP treatment caused imbalance in antioxidant enzyme activities and tissue damage in the liver, kidney, brain, and testis. These findings are the first to show the degenerative role of BP on the cellular level. The observed impairment of equivalent homeostasis and antioxidant defence points to oxidative stress as a mechanism behind tissue damage caused by BP.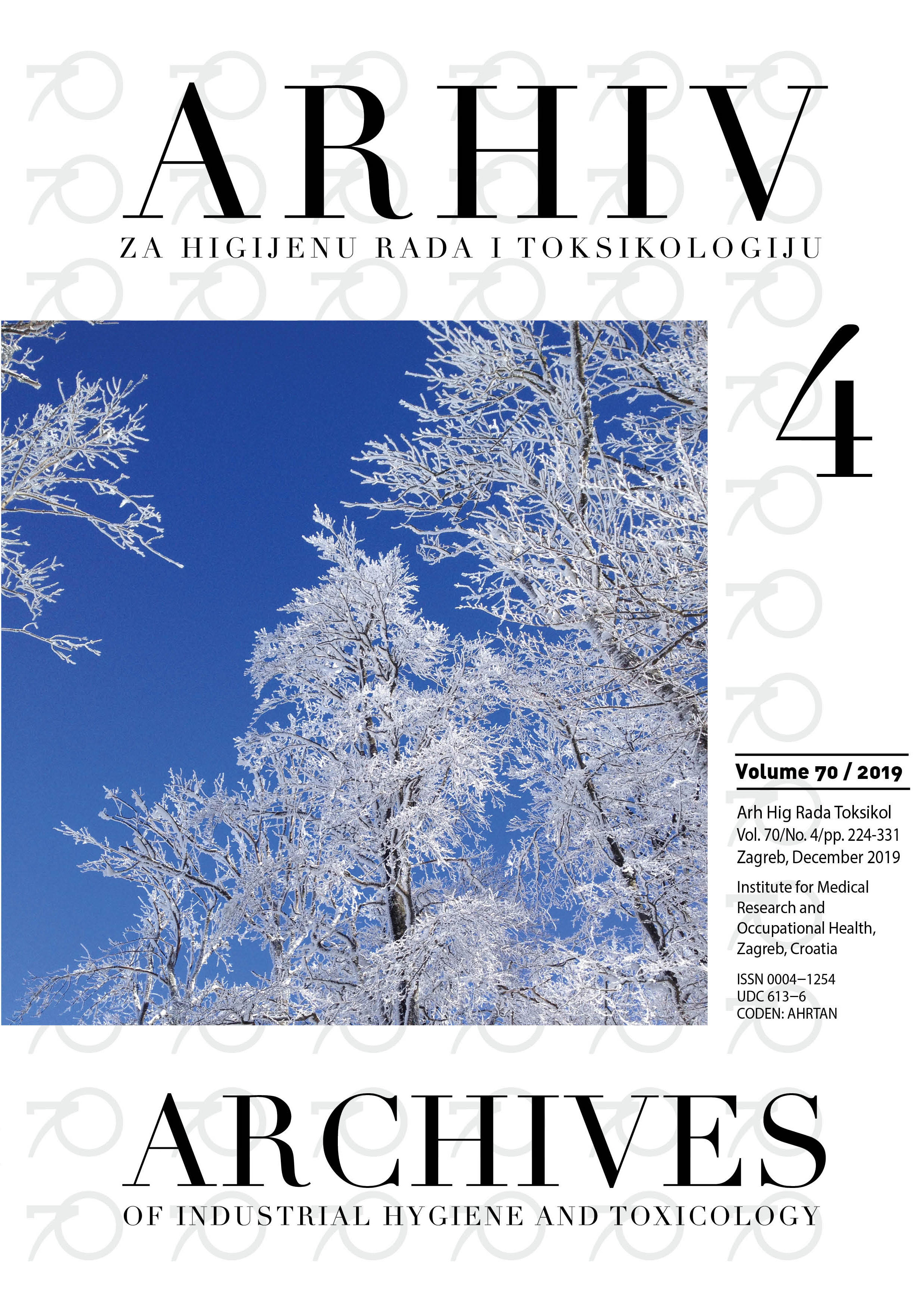 How to Cite
1.
Aydemir D, Öztaşcı B, Barlas N, Ulusu NN. Effects of butylparaben on antioxidant enzyme activities and histopathological changes in rat tissues. Arh Hig Rada Toksikol [Internet]. 2019Nov.28 [cited 2020Apr.8];70(4). Available from: https://arhiv.imi.hr/index.php/arhiv/article/view/1194
Copyright (c) 2019 Duygu Aydemir, Burcu Öztaşcı, Nurhayat Barlas, Nuray Nuriye Ulusu
This work is licensed under a Creative Commons Attribution-ShareAlike 4.0 International License.