The effects of occupational lead exposure on selected inflammatory biomarkers
Vugar Ali Turksoy

Department of Public Health, Yozgat Bozok University, Faculty of Medicine, Yozgat, Turkey

https://orcid.org/0000-0002-3545-3945

Lutfiye Tutkun

Department of Medical Biochemistry, Yozgat Bozok University, Faculty of Medicine, Yozgat, Turkey

Servet Birgin Iritas

Council of Forensic Medicine, Ankara, Turkey

Meside Gunduzoz

Ankara Occupational Diseases Hospital, Departmant of Family Medicine, Ankara, Turkey

Serdar Deniz

Provincial Health Directorate, Malatya, Turkey
Keywords:
atherosclerosis, cytokines, h-FABP, IL-6, IL-10, TNF-α, VCAM-1
Abstract
In exposure to toxic metals such as lead, determining lead and cytokine levels (IL-6, IL-10, and TNF-α) is essential for early detection of diseases. The aim of this study was to develop an model for early detection of inflammation and onset of atherosclerosis in the absence of clinical findings in young workers, which could help physicians take timely an action and start treatment. This study included 49 metal workers exposed to lead occupationally and 50 unexposed administrative workers (controls) who underwent immunological analysis for cytokines (IL-6, IL-10, and TNF-α) and atherosclerosis markers (h-FABP and VCAM-1), toxicological analysis for lead, and routine biochemical analysis (ALT, AST, creatinine) at the Ankara Occupational and Environmental Diseases Hospital in 2017. Lead levels correlated with IL-6, IL-10, and TNF-α (r=0.469, r=0.521 and r=0.279, respectively, p<0.01) but did not significantly affect h-FABP and VCAM-1 levels.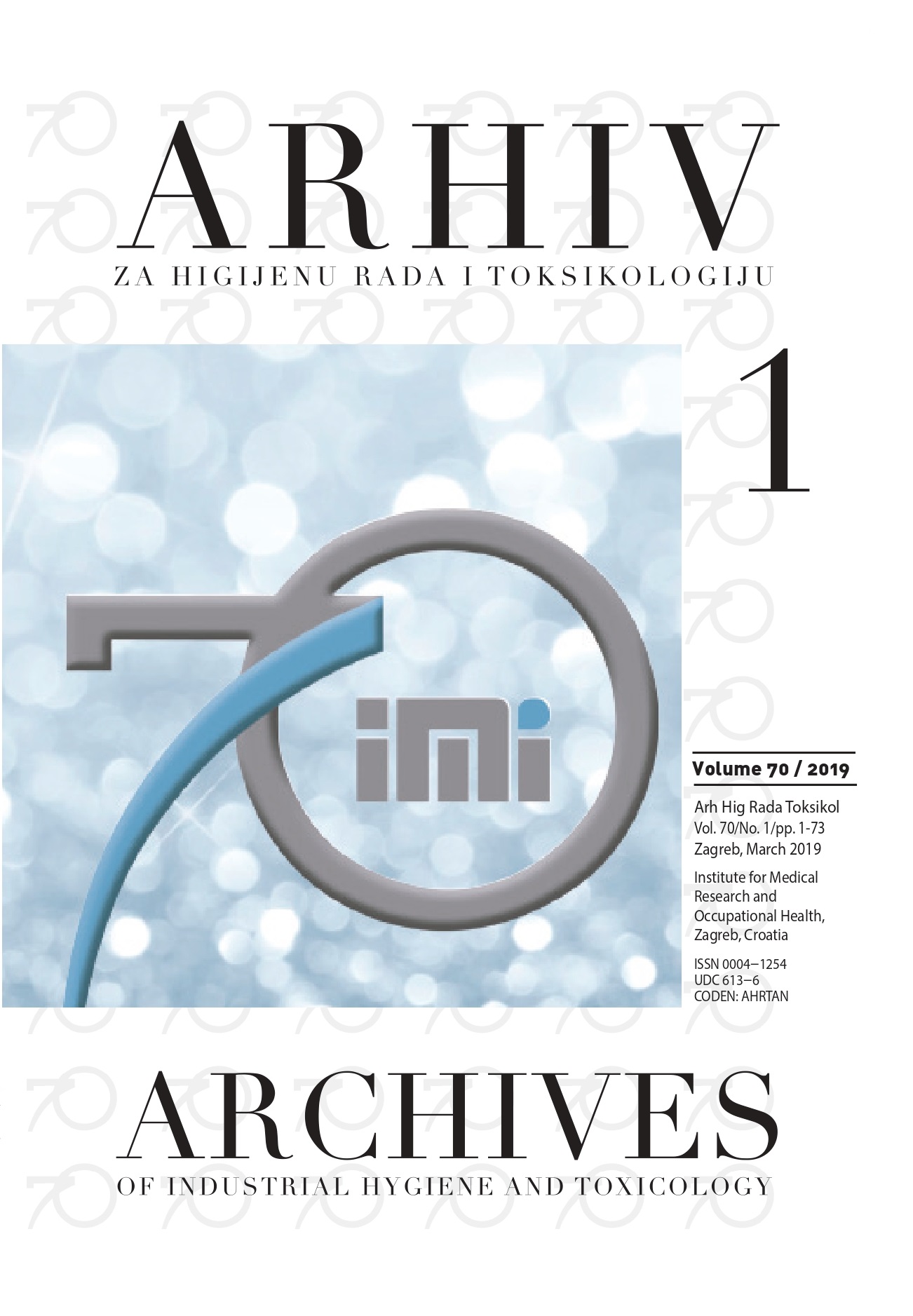 How to Cite
1.
Turksoy VA, Tutkun L, Iritas SB, Gunduzoz M, Deniz S. The effects of occupational lead exposure on selected inflammatory biomarkers. Arh Hig Rada Toksikol [Internet]. 2019Mar.8 [cited 2019Oct.23];70(1). Available from: https://arhiv.imi.hr/index.php/arhiv/article/view/1049
Copyright (c) 2019 Vugar Ali Turksoy, Lutfiye Tutkun, Servet Birgin Iritas, Meside Gunduzoz, Serdar Deniz
This work is licensed under a Creative Commons Attribution-NonCommercial-ShareAlike 4.0 International License.