Redox and essential metal status in the brain of Wistar rats acutely exposed to a cadmium and lead mixture
Dragana Javorac

University of Belgrade Faculty of Pharmacy, Department of Toxicology "Akademik Danilo Soldatović", Belgrade, Serbia

Aleksandra Buha Đorđević

University of Belgrade Faculty of Pharmacy, Department of Toxicology "Akademik Danilo Soldatović", Belgrade, Serbia

Milena Anđelković

University of Belgrade Faculty of Pharmacy, Department of Toxicology "Akademik Danilo Soldatović", Belgrade, Serbia

Simona Tatović

University of Belgrade Faculty of Pharmacy, Department of Toxicology "Akademik Danilo Soldatović", Belgrade, Serbia

Katarina Baralić

University of Belgrade Faculty of Pharmacy, Department of Toxicology "Akademik Danilo Soldatović", Belgrade, Serbia

Evica Antonijević

University of Belgrade Faculty of Pharmacy, Department of Toxicology "Akademik Danilo Soldatović", Belgrade, Serbia

Jelena Kotur-Stevuljević

University of Belgrade Faculty of Pharmacy, Department of Biochemistry, Belgrade, Serbia

Danijela Đukić-Ćosić

University of Belgrade Faculty of Pharmacy, Department of Toxicology "Akademik Danilo Soldatović", Belgrade, Serbia

Biljana Antonijević

University of Belgrade Faculty of Pharmacy, Department of Toxicology "Akademik Danilo Soldatović", Belgrade, Serbia

Zorica Bulat

University of Belgrade Faculty of Pharmacy, Department of Toxicology "Akademik Danilo Soldatović", Belgrade, Serbia
Keywords:
Cd, Cu, Fe, MDA, Mn, neurotoxicity, oxidative stress, Pb, TBARS, Zn
Abstract
Most Pb and Cd neurotoxicity studies investigate exposure to either of the heavy metals alone, while data on co-exposure are scarce. The aim of our study was to fill that gap by investigating acute combined effects of Pb and Cd on redox and essential metal status in the brain of Wistar rat. Animals were randomised in four groups of six to eight rats, which received 15 or 30 mg/kg of Cd, 150 mg/kg of Pb, or 150 mg/kg of Pb + 15 mg/kg of Cd by gavage. The fifth, control, group received distilled water only. Co-treatment with Pb and Cd induced significant increase in malondialdehyde (MDA) and thiobarbituric acid-reactive substances (TBARS) compared to control and groups receiving either metal alone. This is of special importance, as MDA presence in the brain has been implicated in many neurodegenerative disorders. The groups did not significantly differ in Zn, Cu, Mn, and Fe brain levels. Our findings highlight the importance of metal mixture studies. Neurotoxicity assessments of single chemicals do not provide a real insight into exposure to mixtures in real life. Further research should look into interactions between these metals to reveal complex molecular mechanisms of their neurotoxicity.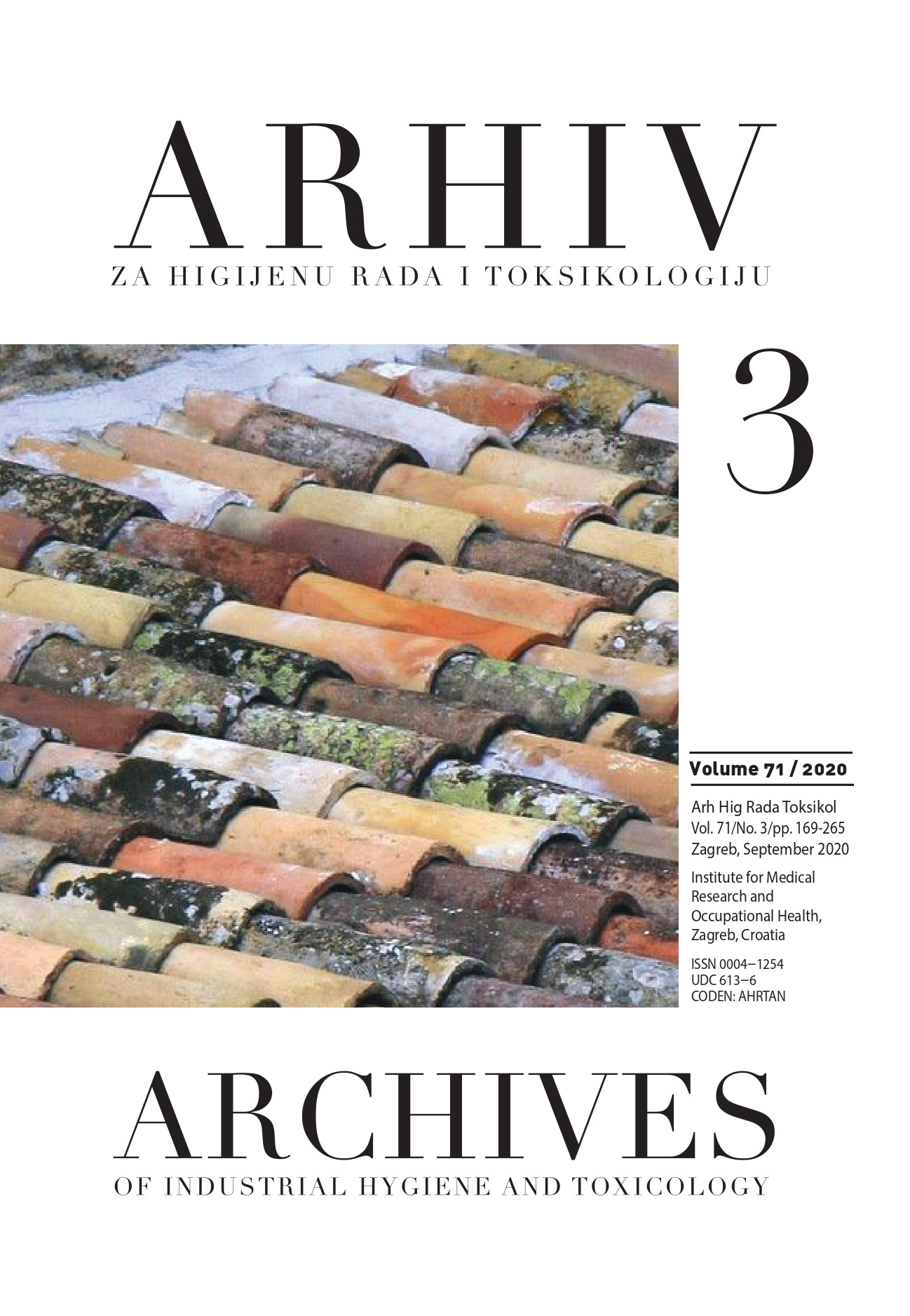 How to Cite
1.
Javorac D, Buha ĐorđevićA, Anđelković M, Tatović S, Baralić K, Antonijević E, Kotur-StevuljevićJ, Đukić-ĆosićD, Antonijević B, Bulat Z. Redox and essential metal status in the brain of Wistar rats acutely exposed to a cadmium and lead mixture. Arh Hig Rada Toksikol [Internet]. 2020Sep.14 [cited 2021Jan.24];71(3). Available from: https://arhiv.imi.hr/index.php/arhiv/article/view/1283
Copyright (c) 2020 Dragana Javorac, Aleksandra Buha Đorđević, Milena Anđelković, Simona Tatović, Katarina Baralić, Evica Antonijević, Jelena Kotur-Stevuljević, Danijela Đukić-Ćosić, Biljana Antonijević, Zorica Bulat
This work is licensed under a Creative Commons Attribution 4.0 International License.