Effects of simvastatin and fenofibrate on butyrylcholinesterase activity in the brain, plasma, and liver of normolipidemic and hyperlipidemic rats
Antonija Vukšić

School of Medicine, University of Zagreb, Department of Pharmacology, Zagreb, Croatia, Polyclinic Bonifarm, Department of Clinical Pharmacology and Toxicology, Zagreb, Croatia

Jasna Lovrić

School of Medicine, University of Zagreb, Department of Medical Chemistry, Biochemistry, and Clinical Chemistry, Zagreb, Croatia

Paško Konjevoda

Rudjer Boskovic Institute, NMR Center, Zagreb, Croatia

Nina Blažević

School of Medicine, University of Zagreb, Department of Pharmacology, Zagreb, Croatia

Marinko Bilušić

Polyclinic Bonifarm, Department of Clinical Pharmacology and Toxicology, Zagreb, Croatia

Vlasta Bradamante

Department of Pharmacology. School of Medicine, University of Zagreb
Keywords:
acetylthiocholine, butyrylthiocholine, lipid-lowering drugs, Wistar rats, Zucker rats
Abstract
The study objective was to test the hypothesis that simvastatin and fenofibrate should cause an increase in butyrylcholinesterase (BuChE) activity not only in the plasma and liver but also in the brain of normolipidemic and hyperlipidemic rats. Catalytic enzyme activity was measured using acetylthiocholine (ATCh) and butyrylthiocholine (BTCh) as substrates. Normolipidemic and hyperlipidemic rats were divided in four groups receiving 50 mg/kg of simvastatin a day or 30 mg/kg of fenofibrate a day for three weeks and three control groups receiving saline. Simvastatin and fenofibrate caused an increase in brain BuChE activity in both normo- and hyperlipidemic rats regardless of the substrate. The increase with BTCh as substrate was significant and practically the same in normolipidemic and hyperlipidemic rats after simvastatin treatment (14–17% vs controls). Simvastatin and fenofibrate also increased liver and plasma BuChE activity in both normolipidemic and hyperlipidemic rats regardless of the substrate. In most cases the increase was significant. Considering the important role of BuChE in cholinergic transmission as well as its pharmacological function, it is necessary to continue investigations of the effects of lipid-lowering drugs on BuChE activity.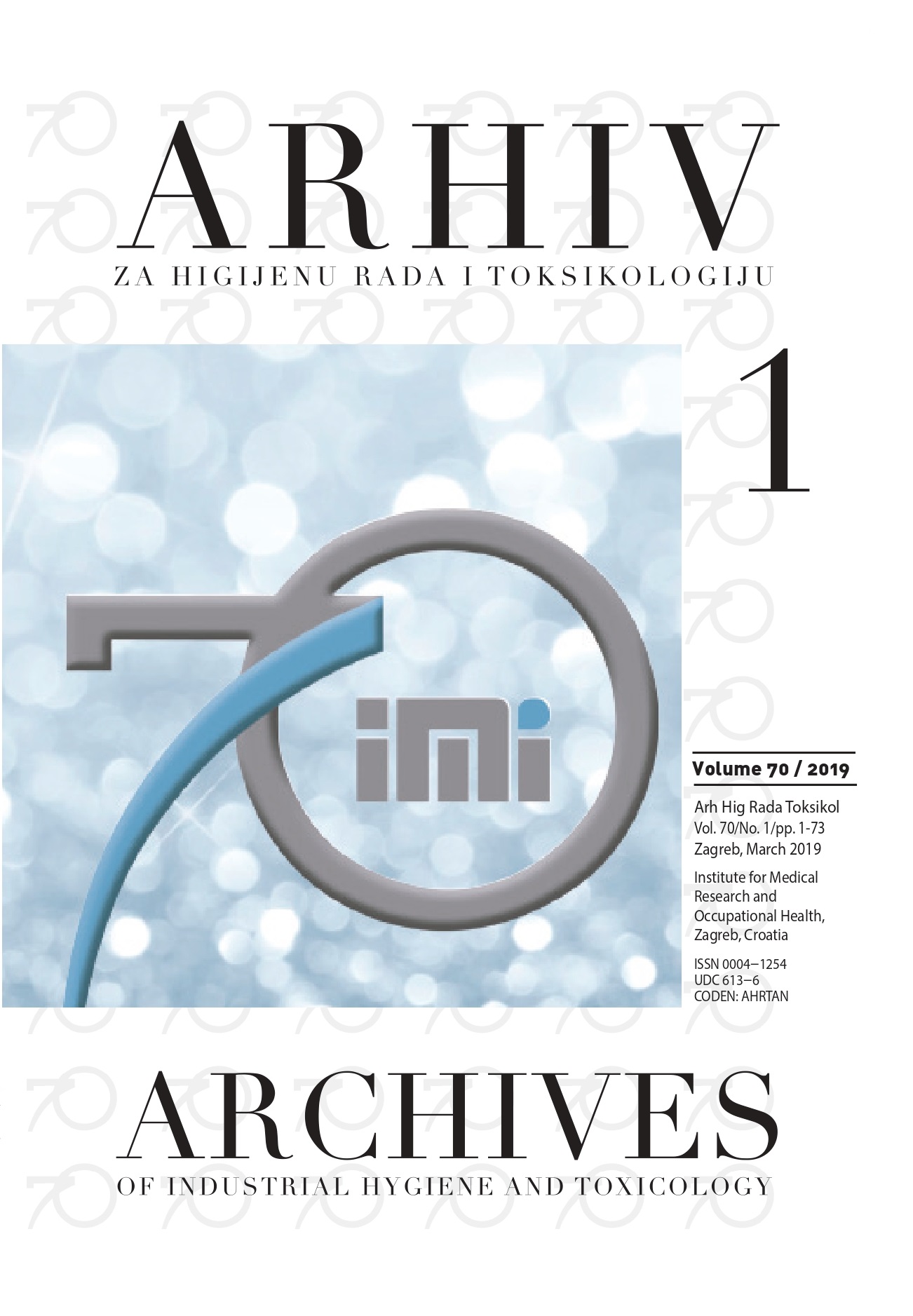 How to Cite
1.
Vukšić A, Lovrić J, Konjevoda P, Blažević N, Bilušić M, Bradamante V. Effects of simvastatin and fenofibrate on butyrylcholinesterase activity in the brain, plasma, and liver of normolipidemic and hyperlipidemic rats. Arh Hig Rada Toksikol [Internet]. 2019Feb.7 [cited 2019Oct.23];70(1). Available from: https://arhiv.imi.hr/index.php/arhiv/article/view/1050
Copyright (c) 2019 Antonija Vukšić, Jasna Lovrić, Paško Konjevoda, Nina Blažević, Marinko Bilušić, Vlasta Bradamante
This work is licensed under a Creative Commons Attribution-NonCommercial-ShareAlike 4.0 International License.