In vitro antifungal effect of phenylboronic and boric acid on Alternaria alternata
Katarina Martinko

University of Zagreb Faculty of Agriculture, Division of Phytomedicine, Zagreb, Croatia

Siniša Ivanković

Ruđer Bošković Institute, Division of Molecular Medicine, Zagreb, Croatia

Edyta Đermić

University of Zagreb Faculty of Agriculture, Division of Phytomedicine, Zagreb, Croatia

Damir Đermić

Ruđer Bošković Institute, Division of Molecular Biology, Zagreb, Croatia
Keywords:
boronic acids, early blight, minimal inhibitory concentration, mycelial growth, sporulation, tomato
Abstract
The ascomycete fungus Alternaria alternata causes early blight, one of economically the most important tomato diseases. Due to frequent use of fungicides, A. alternata has developed resistance with negative economic and environmental consequences. Research of new ways to control fungal pathogens has turned its eye to environmentally friendly chemicals with low toxicity such as boronic acids. The aim of our study was therefore to test the antifungal effects of phenylboronic and boric acid in vitro on A. alternata. We isolated the pathogen from a symptomatic tomato plant and determined the minimum inhibitory concentration of phenylboronic and boric acid on A. alternata mycelial growth using the poisoned food technique. The antifungal effect was tested on a wide range of phenylboronic and boric acid concentrations (from 0.04 % to 0.3 %) applied separately to agar with mycelial disc of the pathogen. After five days of incubation, phenylboronic acid at low concentration (0.05 %) completely inhibited mycelial growth. Boric acid, in turn, did not significantly slow down mycelial growth but did reduce sporulation and confirmed its fungistatic effect. Our findings point to the potential use of phenylboronic acid to control phytopathogenic fungi. This is, to our knowledge, the first report on its antifungal effect on an agriculturally important pathogen in vitro. Moreover, since A. alternata is also a human pathogen, these results may have clinical ramifications.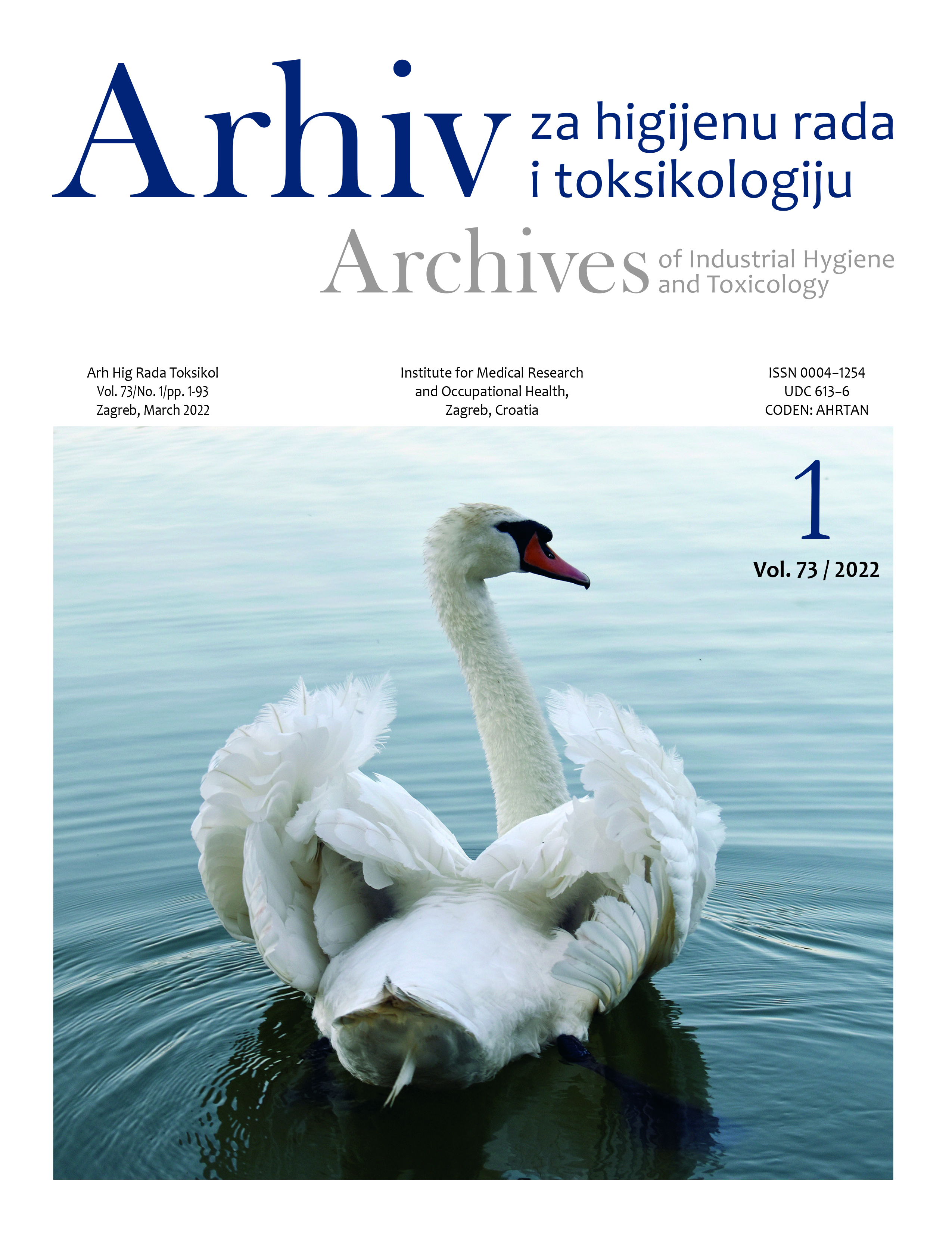 How to Cite
1.
Martinko K, Ivanković S, Đermić E, Đermić D. In vitro antifungal effect of phenylboronic and boric acid on Alternaria alternata. Arh Hig Rada Toksikol [Internet]. 2022Mar.23 [cited 2022Aug.14];73(1). Available from: https://arhiv.imi.hr/index.php/arhiv/article/view/1468
Copyright (c) 2022 Katarina Martinko, Siniša Ivanković, Edyta Đermić, Damir Đermić
This work is licensed under a Creative Commons Attribution 4.0 International License.