Juniper and immortelle essential oils synergistically inhibit adhesion of nontuberculous mycobacteria to Acanthamoeba castellanii
Dolores Peruč

University of Rijeka Faculty of Medicine, Department of Microbiology and Parasitology, Rijeka, Croatia

Brigita Tićac

University of Rijeka Faculty of Medicine, Department of Microbiology and Parasitology, Rijeka, Croatia

Dalibor Broznić

University of Rijeka Faculty of Medicine, Department of Medical Chemistry, Biochemistry and Clinical Chemistry, Rijeka, Croatia

Ivana Gobin

University of Rijeka Faculty of Medicine, Department of Microbiology and Parasitology, Rijeka, Croatia
Keywords:
Acanthamoeba castellanii, antiadhesion, Helichrysum italicum, Juniperus communis, Mycobacterium avium, Mycobacterium gordonae, Mycobacterium intracellulare
Abstract
Acanthamoeba is an opportunistic protozoon, widespread in the aquatic environment, where it can be in endosymbiosis with over 30 pathogenic bacteria, including nontuberculous mycobacteria (NTM). Protozoa play a crucial role in mycobacterial pathogenesis and serve as a reservoir of infection. Since the first step in bacteria making contact with amoebae is adhesion, we were interested in investigating whether essential oils (EOs) can affect it. To that end we investigated the effects of juniper (Juniperus communis) and immortelle (Helichrysum italicum) EOs against Mycobacterium avium, M. intracellulare, and M. gordonae in tap water and against their adhesion to Acanthamoeba castellanii by combining them in synergistic EO concentrations. M. avium and M. intracellulare adhered to A. castellanii to a greater extent than M. gordonae. The adhesion of all NTMs was prevented by the subinhibitory concentrations of EOs. When comparing the effect of synergistic combinations of EOs and the effect of a single concentration from a combination, a higher percentage of adhesion inhibition in all synergistic combinations observed, except against M. gordonae. Neither oil was cytotoxic to A. castellanii. Our findings suggest that the EOs or their components weaken the contact of environmental NTMs and free-living amoebae and indirectly diminish their pathogenic potential, which could be of value in developing strategies for maintenance of water supply systems.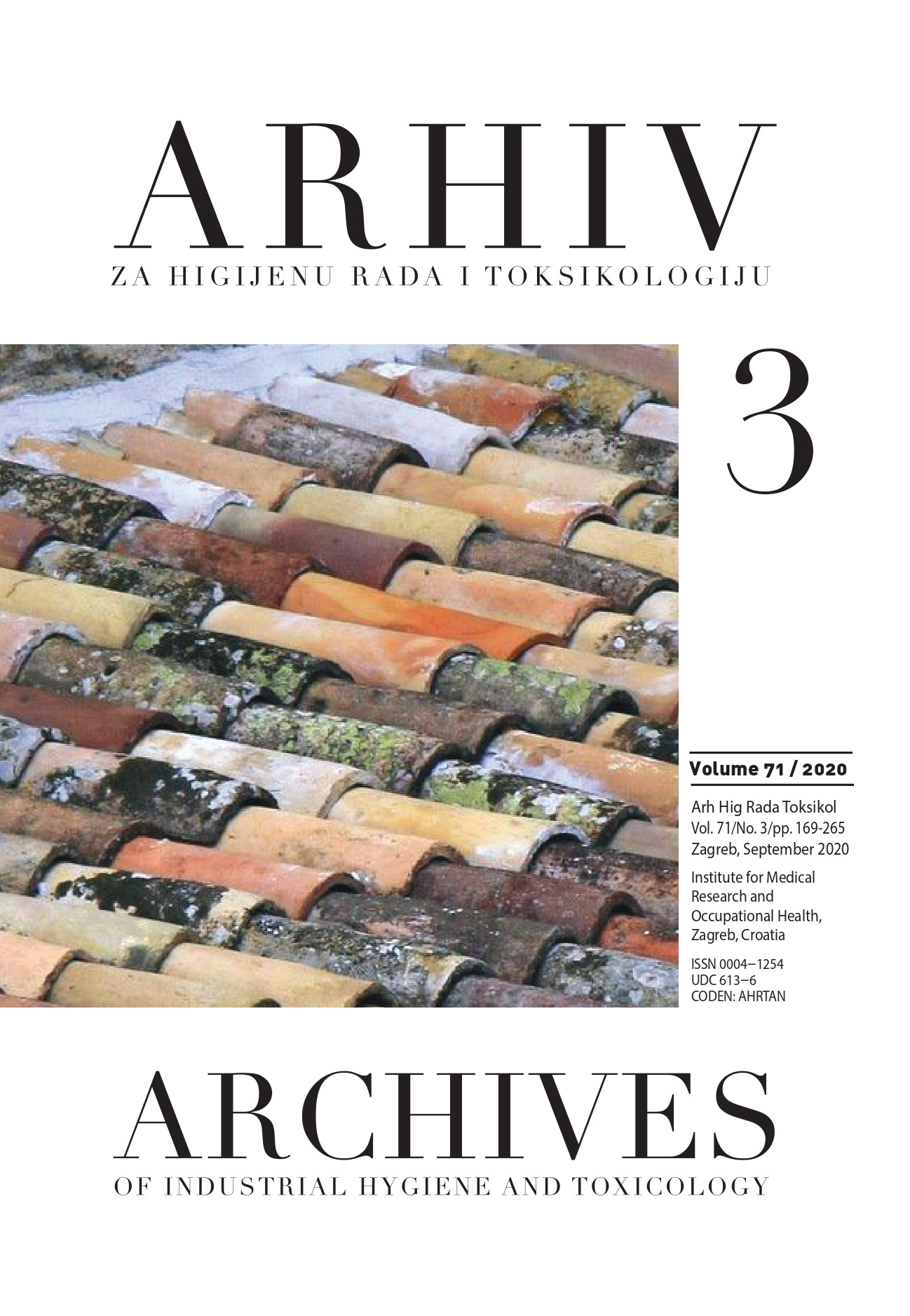 How to Cite
1.
Peruč D, Tićac B, Broznić D, Gobin I. Juniper and immortelle essential oils synergistically inhibit adhesion of nontuberculous mycobacteria to Acanthamoeba castellanii. Arh Hig Rada Toksikol [Internet]. 2020Sep.14 [cited 2021Jan.24];71(3). Available from: https://arhiv.imi.hr/index.php/arhiv/article/view/1297
Copyright (c) 2020 Dolores Peruč, Brigita Tićac, Dalibor Broznić, Ivana Gobin
This work is licensed under a Creative Commons Attribution 4.0 International License.