DNA damage assessment with buccal micronucleus cytome assay in Turkish coal miners
Hatice Gul Anlar

Department of Pharmaceutical Toxicology, Faculty of Pharmacy, Zonguldak Bülent Ecevit University, Zonguldak, Turkey

http://orcid.org/0000-0002-3623-6176

Merve Bacanlı

Department of Pharmaceutical Toxicology, Gülhane Faculty of Pharmacy, University of Health Sciences, Ankara, Turkey

Özlem Kar Kurt

Department of Occupational and Pulmonary Medicine, Zonguldak Atatürk State Hospital, Zonguldak, Turkey

http://orcid.org/0000-0002-4641-2866

Canan Eraydın

Department of Nursing, Faculty of Health Sciences, Zonguldak Bülent Ecevit University, Zonguldak, Turkey

http://orcid.org/0000-0002-4640-5957
Keywords:
binucleus frequency, coal dust, condensed chromatin frequency, epithelial cells, genotoxicity, industrial health, karryorrhexis, karyolysis, micronucleus frequency, nuclear bud frequency, pyknosis, occupational toxicology
Abstract
The aim of this study was to assess DNA damage in Turkish coal miners with the buccal micronucleus cytome (BMCyt assay as the least invasive and therefore most practical method that may find wider application in coal miner biomonitoring. Buccal epithelial cell samples were taken from 54 coal miners and 42 controls from Zonguldak, Turkey to establish their micronucleus (MN), binucleus (BN), condensed chromatin (CC), karyorrhectic (KHC), karyolytic (KYL), nuclear bud (NBUD), and pyknotic (PYC) frequencies. We also analysed the effects of confounding factors such as age, years of work at the mine, smoking, alcohol drinking, and use of protective equipment on differences in MN frequencies. Two miners had confirmed and three suspect pneumoconiosis, whereas 49 displayed normal chest radiographs. MN, BN, KHC, and NBUD frequencies were significantly higher in coal miners than controls. Years of work at the mine also showed a significant effect on buccal MN frequencies in coal miners, but we found no correlation between MN frequencies and age, smoking, and alcohol consumption. In conclusion, BMCyt assay proved itself an accurate and practical screening method, as it can detect DNA damage much earlier than pneumoconiosis develops.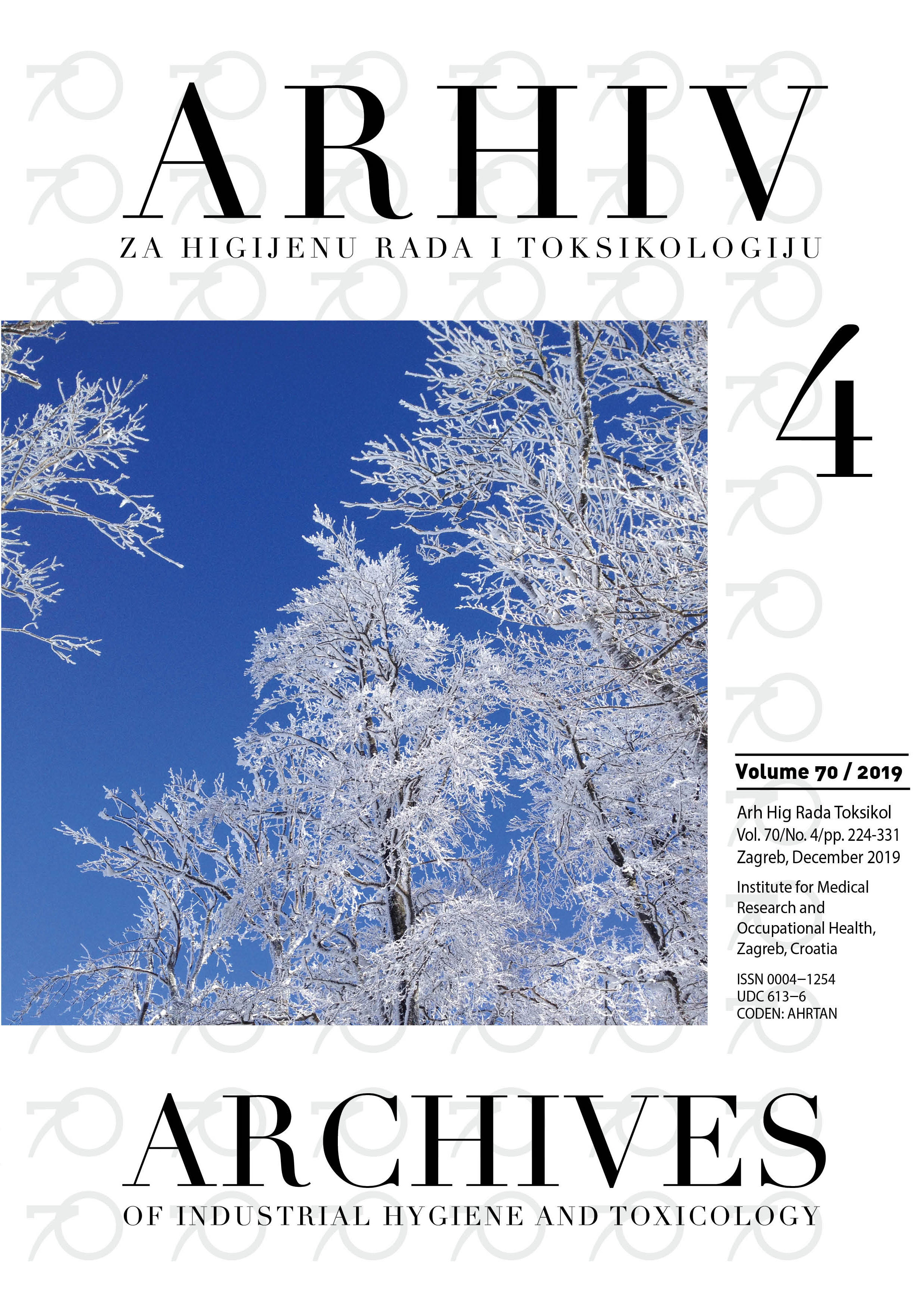 How to Cite
1.
Anlar HG, Bacanlı M, Kar Kurt Özlem, Eraydın C. DNA damage assessment with buccal micronucleus cytome assay in Turkish coal miners. Arh Hig Rada Toksikol [Internet]. 2019Nov.21 [cited 2020Apr.8];70(4). Available from: https://arhiv.imi.hr/index.php/arhiv/article/view/1181
Copyright (c) 2019 Hatice Gul Anlar, Merve Bacanlı, Özlem Kar Kurt, Canan Eraydın
This work is licensed under a Creative Commons Attribution-ShareAlike 4.0 International License.