How improvements in monitoring and safety practices lowered airborne formaldehyde concentrations at an Italian university hospital: a summary of 20 years of experience
Stefano Dugheri

Careggi University Hospital, Medicina del Lavoro-Laboratorio di Igiene e Tossicologia Industriale; University of Florence, Dipartimento di Medicina Sperimentale e Clinica, Florence

Daniela Massi

Section of Pathology, Department of Health Sciences, University of Florence and Histopathology and Molecular Diagnostics, Careggi University Hospital, Florence, Italy

Nicola Mucci

Department of Experimental and Clinical Medicine, University of Florence, Florence, Italy

Nicola Berti

Health and Safety Service, Careggi University Hospital, 50134, Firenze, Italy

Giovanni Cappelli

Department of Experimental and Clinical Medicine, University of Florence, Florence, Italy

Giulio Arcangeli

Department of Experimental and Clinical Medicine, University of Florence, Florence, Italy
Keywords:
air monitoring, formaldehyde, personal sampling, remote control, safe practices
Abstract
The last two decades have been crucial for the assessment of airborne formaldehyde (FA) exposure in healthcare environments due to changes in limits and reference values, definition of carcinogenicity, and new monitoring methods. The aim of this study was to analyse twenty years (1999–2019) of experience in automatic, continuous airborne FA monitoring in the Pathology Laboratory and operating rooms at the Careggi University Hospital, Florence, Italy. These 20 years saw gradual improvements in FA monitoring of exposed employees considered at maximum risk, including improvements in analytical methods of detection and sampling strategies, which came with changes in procedures and workflow operations. In 2019, after the adoption of safe practices, including a closed-circuit system using pre-loaded containers and a vacuum sealing, 94 % of the total measurements (FA concentrations) were lower than 16 µg/L, and only 6 % ranged from 21 to 75 µg/L. In the studied work units, the ratio between area and personal readings ranged from 0.9 to 1.0, both for long and short-term sampling. Personal sampling was simplified with a new workstation, which integrated different monitoring systems into an innovative ergonomic armchair equipped with personal sampling devices. Area monitoring was also improved with a real-time, continuous photoacoustic instrument. Over these 20 years, FA exposure significantly dropped, which coincided with optimised histology workflow and implementation of safety practices. For high-throughput screening and cost savings we propose an innovative ergonomic armchair station which allows remote continuous monitoring.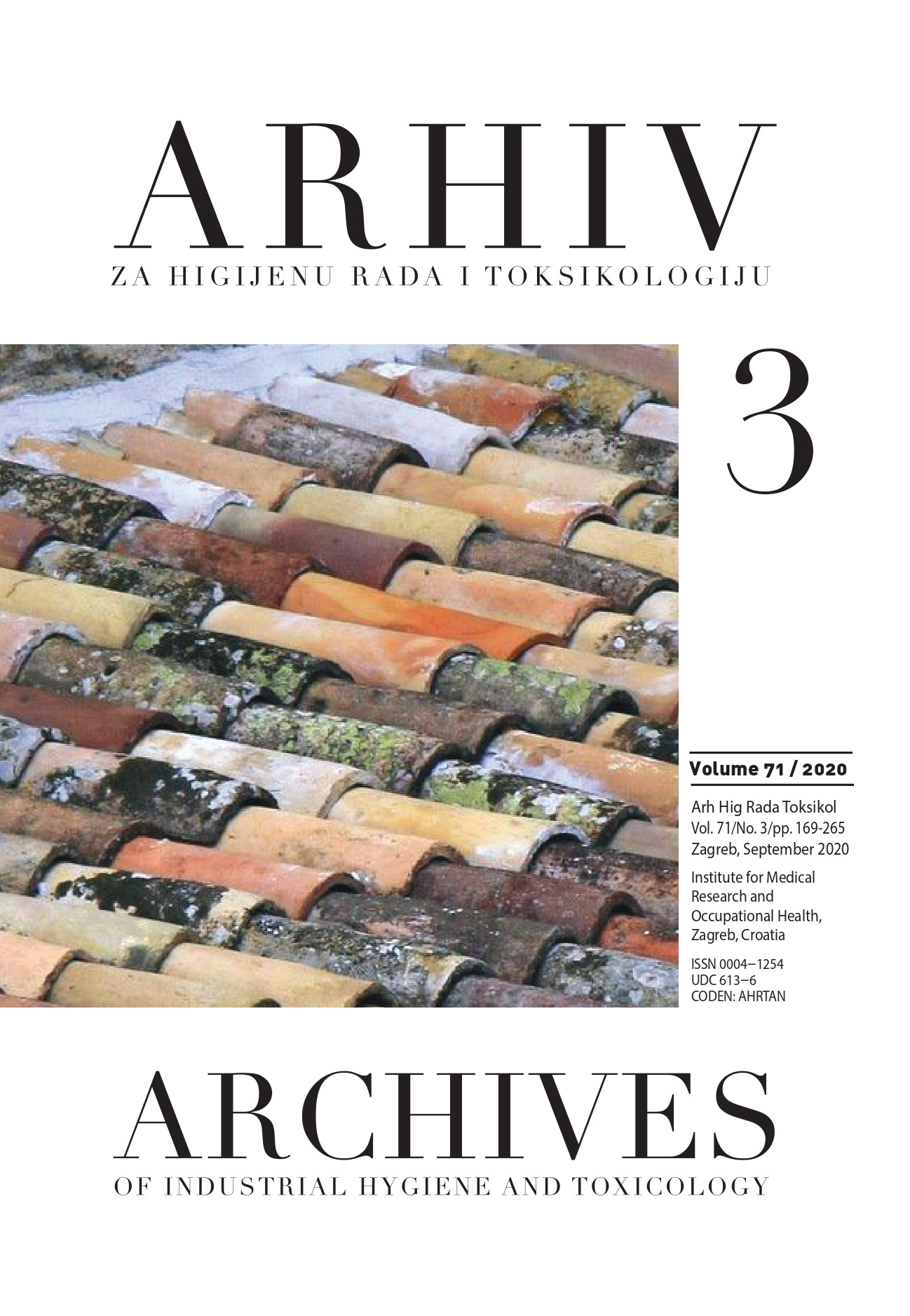 How to Cite
1.
Dugheri S, Massi D, Mucci N, Berti N, Cappelli G, Arcangeli G. How improvements in monitoring and safety practices lowered airborne formaldehyde concentrations at an Italian university hospital: a summary of 20 years of experience. Arh Hig Rada Toksikol [Internet]. 2020Sep.2 [cited 2021Jan.19];71(3). Available from: https://arhiv.imi.hr/index.php/arhiv/article/view/1255
Copyright (c) 2020 Stefano Dugheri, Daniela Massi, Nicola Mucci, Nicola Berti, Giovanni Cappelli, Giulio Arcangeli
This work is licensed under a Creative Commons Attribution 4.0 International License.